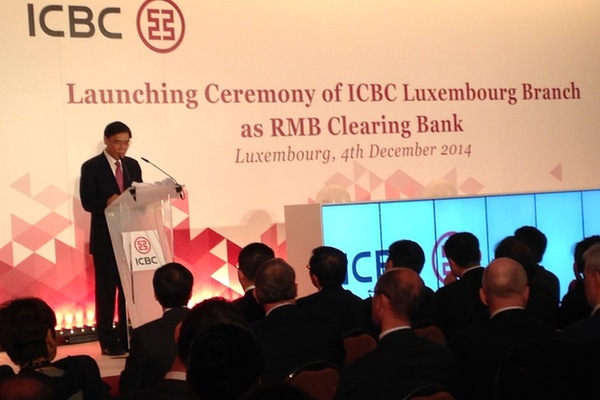 Jiang Jianqing, chairman of the Industrial and Commercial Bank of China delivered keynote speech at the launch ceremony [Photo/Liu Jia]
An increasing number of Chinese companies are emerging on the world stage as they strive to establish their brands outside the country. This report, the eighth in the series, is by Jiang Xueqing.
As Chinese companies assume a more prominent role on the global business stage, Bank of China Ltd is following and supporting them.
The State-backed lender sees the overseas market as a major battlefield, and that part of its business has been expanding at a record pace. Its pre-tax profits from overseas operations were up 29.9 percent last year to $8.66 billion, or 23 percent of the total for the lender, up 3.6 percentage points from the previous year.
Tian Guoli, chairman of the nation's fourth-largest lender by assets, said: "Huge and profound changes are happening in the operating environment for Chinese banks. The global economic recovery has not gone smoothly; meanwhile, China is now in a 'new normal' era of slower but sustainable growth."
Despite increasing risks and difficulties, there are strategic opportunities for Chinese banks. With the implementation of the "One Belt, One Road" initiatives, a possible free trade area for the Asia-Pacific region and the acceleration of renminbi internationalization, a new market space will open up for cross-border financing, he said.
"There are historic opportunities for the Chinese banking sector to join the global competition and remake the world's financial structure," Tian said.
As of March 31, the bank had a presence in 42 countries and regions. These offices are expanding their market influence, with many directly signing or helping the home office sign agreements with major clients, including the London Stock Exchange Group Plc.
The bank's overseas units are cooperating with the world's 500 largest companies by revenue and providing cross-border financing to Chinese companies' overseas acquisitions.