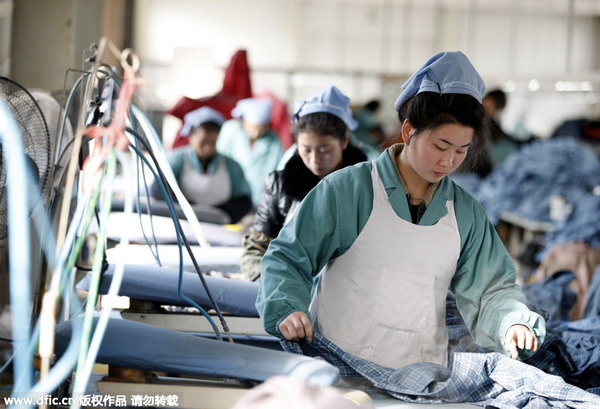 Female Chinese workers iron clothes to be exported to Europe at a garment factory in Huaibei city, East China's Anhui province, Jan 20, 2015. [Photo / IC]
New measures were unveiled on Thursday aimed at ensuring the quality of Chinese products sold overseas.
Such merchandise has been increasingly snapped up by foreign customers but remains clouded by concerns over quality and intellectual property rights.
The State Council announced the decision, which involves 10 departments, as part of a nationwide drive to crack down on violations of intellectual property rights and to target producers of counterfeit goods.
A three-year plan will address key products exported to Africa, Arab nations, Latin America and countries and regions along the China-proposed Silk Road Economic Belt and 21st Century Maritime Silk Road-transcontinental initiatives prioritizing unimpeded trade and connectivity.
Cross-border law enforcement coordination will be improved, including monitoring, evidence collection and judicial assistance, according to a State Council document.
The document calls for efforts to further help Chinese companies to invest and operate overseas and to expand product marketing. It also seeks strengthened negotiations and communications on IPR protection, a key issue for Western countries concerned about counterfeit goods.
The document adds that China will improve IPR coordination and cooperation with countries including the United States. It will also draw up and carry out a working plan for such cooperation with the European Union this year.
China became the world's largest exporter of goods in 2009, and it overtook the US to become the world's largest trading nation in 2013.
Products produced by Chinese companies, including Lenovo and Huawei, have been bought by more foreign consumers, especially in developing countries, according to China's National Image Global Survey 2014.
But Chinese brands are hindered by concerns over low quality and food safety problems, according to the survey, released last month.
Chai Yu, an expert on Latin American economic studies at the Chinese Academy of Social Sciences, said China is aiming to prevent companies from encountering blind competition through continued lowering of prices and quality in the global market.
For example, the Latin American market is a huge one for Chinese products, and improved quality would help to build Chinese brands' reputation and the country's image abroad, Chai said.
Huang Wei, a researcher at the academy's Institute of World Economics and Politics, said the new measures will encourage Chinese enterprises to upgrade business and to guarantee product quality.
The urgency of such a task is highlighted by the announcement of the Silk Road initiatives amid lingering concerns over dumping of Chinese products, Huang said.
Despite China's progress in recent years, any negative impressions about its products and IPR records cannot be tackled overnight, and the country needs to prove itself through its actions, she said.