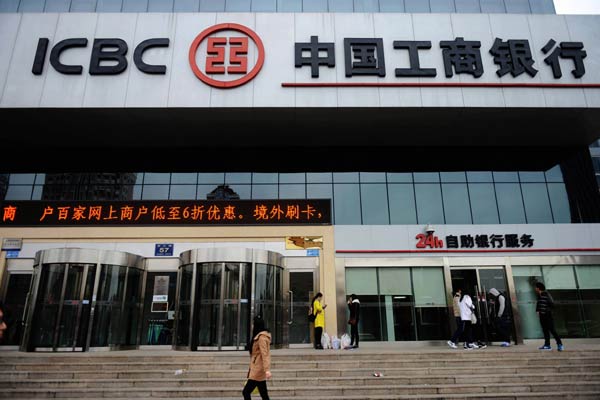 A pedestrian walks past an outlet of Industrial & Commercial Bank of China Ltd in Qingdao, Shandong province. The bank posted its first quarterly profit decline since 2009 on March 26, 2015. [YU FANGPING/CHINA DAILY]
Industrial & Commercial Bank of China Ltd, the world's largest lender by assets, posted its first quarterly decline in profit since 2009 as provisions for bad loans more than doubled.
Net income slipped 3.1 percent to 55.3 billion yuan ($8.9 billion) in the three months ended Dec 31 from a year earlier, a Hong Kong exchange filing showed on Thursday. That trailed the 58 billion yuan average estimate of 26 analyst estimates compiled by Bloomberg.
A weakening Chinese economy is pushing up nonperforming loans just as interest-rate cuts threaten to pare lenders' margins and deregulation boosts competition. ICBC joined Agricultural Bank of China Ltd and Bank of China Ltd in reducing its dividend payout ratio for 2014.
Agricultural Bank of China on Tuesday posted an unexpected decline in profit. Bank of China reported a 4.8 percent gain.
Like ICBC, both lenders boosted provisions for soured debts.
The People's Bank of China cut benchmark deposit and lending rates in November and February.
The central bank will make another 25 basis-point reduction in the second quarter, according to a Bloomberg survey of analysts this month, after the government set the nation's lowest economic growth target in more than 15 years.
The combined profit growth of China's 18 listed banks may ease to 3 percent this year from an estimated 7.3 percent in 2014 as the slowdown prompts more rate reductions, according to Deutsche Bank AG.
ICBC's nonperforming loans rose by a third last year to 124.5 billion yuan, accounting for 1.13 percent of total advances. Provision charges increased about 150 percent to 24.3 billion yuan in the fourth quarter. ICBC trimmed its full-year dividend to 0.255 yuan a share from 0.262 yuan in 2013.
Chinese banks face rising funding costs as the government deregulates interest rates and savers move money to money-market funds and wealth management products that offer higher yields than bank deposits. Still, ICBC's net interest margin widened nine basis points to 2.66 percent in 2014.
Technology companies such as Tencent Holdings Ltd and Alibaba Group Holding Ltd pose another threat as they move into banking services such as wealth management and payments. ICBC is accelerating its expansion into Internet finance, starting an online platform that integrates services from payments to financing and investments.
The bank is also expanding overseas-from Myanmar and Cambodia to Luxembourg and London-to reduce its reliance on the domestic market. ICBC last week won a Chinese regulatory approval for the acquisition of a Turkish lender.