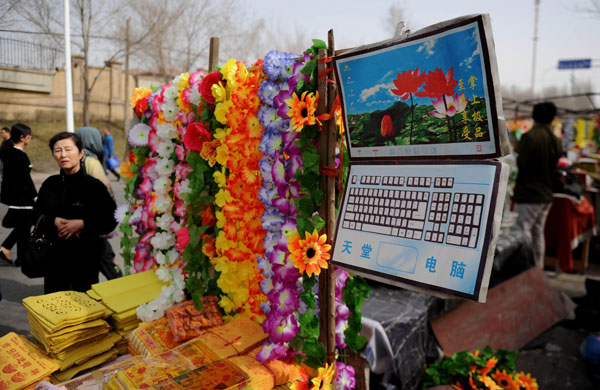 Death care products, including a paper-made PC, on display at a pedlar's stall near a cemetery in Changzhou, Jiangsu province. [Ma Yuan/China Daily]
Arrival of online funeral services will offer industry more transparency, fairness and value for money
Traditionally a taboo subject for many Chinese, the topic of dealing with arrangements surrounding a death in the family is an uneasy one.
But like many traditional, age-old industries, the death care industry too appears to be modernizing. Many of the companies involved - from funeral directors, to those arranging cremation or burial, memorials and other related products and services - are switching to the Internet, which observers say is making the current disorganized market more transparent and efficient, and more affordable.
In the past, people have even been reluctant to pursue a career in this area, too, but times are changing.
"Compared with the traditional trade, the Internet offers customers a more convenient experience at more reasonable prices," said Shi Jun, president of Shanghai An Bai Shi E-Commerce Company, a finance firm jointly owned by Hong Kong-listed graveyard company An Xian Yuan.
The company recently announced a new online business model that integrates services such as hospice care, the arranging of wills, funeral planning, and tailor-made burial sites. The company has also opened an elegantly designed outlet in Shanghai.
"The store and the online platform will be mutually complimentary and help enhance the whole customer experience," Shi said.
According to a report by market researcher Euromonitor, China's death care industry was worth 46.5 billion yuan ($7.5 billion) in 2012, with burial services accounting for about half, and product sales and funerals the rest.
Around 9.5 million people die in China annually. Currently people over the age of 60 account for about 20 percent of the country's total 1.37 billion, and industry estimates now suggest that by 2017, as the population continues to age, the industry could be worth 100 billion yuan.
Wang Hongjie, vice-president of the China Funeral Association, said the growing online market will improve what has become a cluttered and inefficient market, which lacks supervision.
"The suppliers of death care products and services are usually very small, dispersed, and often disorganized with a lack of management standards. Consumers' experiences are often very negative," Wang said. But across the country people are still willing to spend a lot on the funeral of a loved one.
Very often grieving families are emotional and unwilling to challenge companies, however, on cost of arrangements, he said, and it has been known for companies to raise their prices, and relatives pay unnecessary expenses.
Typical examples are for coffins or caskets, that can be sold for 10 or even 20 times their actual cost. High or extra costs are also common on other products such as clothes for the deceased, or for transporting the corpse or even carrying the coffin itself.
According to a latest industry poll, more than one third of people believe funeral costs are too expensive, and nearly 30 percent said current regulations should be formalized.
"Switching to e-commerce cuts down on uncertainties when it comes to cost, and reduces unnecessary intermediate links," said Xu Yi, one of the founders of Beijing's Bi An funeral service company, which launched its website in 2013, offering a full range of services including clothes, caskets, and hearse hire.
However, the company still has three accompanying outlets in the capital, which remain important, says Xu. Around 60 percent of customers coming through the doors are attracted there after viewing its services online.
"All the prices are transparent, shown on the website, and consumers can choose what they like," said Xu.
Although it is still hard to forecast what the online death care industry might be worth in future, those in the sector are sure it will help rebuild trust in what has become an over-priced, and fragmented market.
"The lack of information that has existed in the death care market for quite a long time will be improved as the Internet can offer customers more freedom to chose what they really want, said one.
The influence of traditional concepts does remain strong in many communities, according to Wang and Xu - but both agree that with the main buyers of death care services now being born in 1970s and 1980s, better educated than in the past, more modern in their thinking, and Internet users, the online model can only grow.