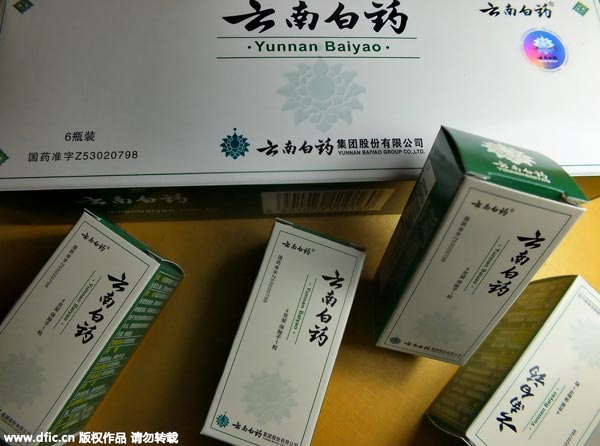 The TCM products of Yunnan Baiyao Group Co Ltd. [Photo/IC]
BEIJING -- Yunnan Baiyao Group Co Ltd a leading traditional Chinese medicine (TCM) manufacturer, reported 7.95-percent net profit growth in 2014 on Saturday.
The Shenzhen-listed company raked in combined net profits of 2.5 billion yuan ($407 million), according to its annual report.
The profit growth rate was down sharply from the 46.7-percent rise recorded in 2013. The Yunnan-based company said the slower growth rate and several other business indicators can be attributed to subdued market demand as well as stricter supervision and higher standards since China implemented a new version of the Good Supply Practice (GSP) for Pharmaceutical Products.
The company's business revenue increased 19 percent to 18.8 billion yuan in 2014 from the previous year, higher than the 14.5-percent increase rate registered in 2013.
TCM has expanded its presence in the global market in recent years. Statistics show that TCM products are sold in 171 countries and have been officially recognized in 29 countries and regions, including Australia, Canada, Austria, Thailand and South Africa.
However, Chinese TCM manufacturers have been eclipsed by their counterparts in Japan and the Republic of Korea, whose combined sales account for around 70 percent of the world's TCM market.
China is making plans to help TCM "go global," according to an official during the Boao Forum for Asia annual conference at the end of last month.