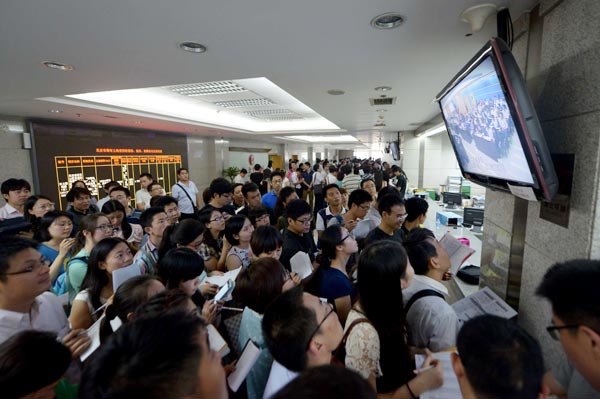 Representatives from property companies check offer prices at a recent land auction in Beijing. The capital city has seen a warm-up in its land market with sales reaching 191 billion yuan ($30.7 billion) this year. Provided to China Daily
Shanghai government sells 10 plots on Wednesday alone for 10.64b yuan
Land sales in Shanghai have ended the year on a high, highlighting a growing appetite by developers for plots in first-tier cities as oversupply risks continue in smaller cities.
One parcel of land in Qiantan, an area the authorities plan to transform into another Pudong New Area, sold for 1.61 billion yuan ($259 million) on Wednesday to a consortium led by Gree Real Estate Co Ltd, which set a record high this year by floor price.
The company plans to use the site for residential development, and the parcel's average gross floor area price worked out at 65,832 yuan per square meter, a 127 percent rise from its starting price.
But just hours later that price was beaten, after Changsha-based Sanxiang Share Co Ltd bought another nearby plot for 1.86 billion yuan, which translated into a gross floor area price of 66,629 yuan per sq m, a 114 percent premium on the starting price.
During the day the Shanghai government sold 10 plots, raking in 10.64 billion yuan, bringing its annual land sale revenues to 162.1 billion yuan, according to figures provided by China Real Estate Information Corp.
The value is less than the 216.4 billion yuan record set last year, but the average floor area price this year was 9,752 yuan per sq m, an 18 percent increase over the level in 2013.
Shanghai's land market has experienced a roller coaster year, however.
The year started with a record price being paid for a plot by Franshion Properties China (Ltd) in January, but in June the monthly total dipped to just 3 billion yuan, before rebounding again toward the end of the year after the central bank eased mortgage policies.
"Land sales in November alone hit 35.5 billion yuan," Fang Ling, an analyst with CRIC, wrote in a research note. "The recent warm-up reflected the market's strong absorption capability and a confident outlook by developers."
Commenting on Wednesday's sales, Zhang Dawei, chief analyst with Centaline Group, noted that Gree's purchase was its first land deal in a first-tier city.
"Premium sites in first-tier cities are rarely available, so the auctions drew bidders from around the country; but developers are more wary of third- and fourth-tier cities due to high inventories there," said Zhang.
Centaline data show that Beijing has also seen a warm-up in its land market with sales reaching 191 billion yuan this year, compared to 182 billion yuan in 2013, then a record.