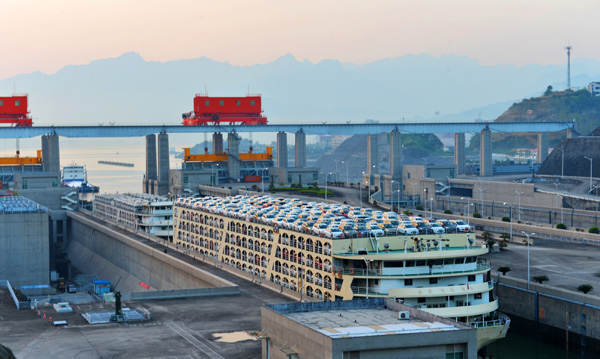 Boats pass through the Three Gorges Dam. The annual volume of freight carried through the region of the dam is more than 100 million metric tons. [Photo/Xinhua]
In 2013, the freight volume of the river's main stream and tributaries soared to 2 billion tons, three times that of the Mississippi River in the United States, and five times that of the Rhine, which runs through several European countries.
"The volume of shipping freight accounts for 20 percent of China's total, and turnover accounts for 60 percent. That's played a vital role in promoting regional economic development," Nie said.
The improvements to the waterway have also reduced transport costs. "Before the dam was built, the stretch between Chongqing and Yichang was only navigable by vessels of less than 1,000 tons, but now the maximum tonnage has been raised to 3,000 to 5,000 tons," he said.
Luo Yi, vice-director of the Port and Waterway Administration of the Hubei Transportation Department, said the rise in the water level has seen fuel costs fall too, so overall transport costs have been cut by between 35 and 37 percent.
Freight volume soars
Construction began in 1994, and the river was successfully dammed in 1997. In June 2003, the water-storage level reached 135 meters, allowing trial operations of two series of five-stage locks to begin.
"In 2010, the water-storage capacity reached 175 meters, which meant the project had met its design requirements in terms of general functions, including flood control, power generation, navigation, and control of the water level. In 2012, the dam successfully handled the largest flow volume—71,200 cubic meters per second—seen in a century, which greatly relieved the pressures caused by flooding in the middle and lower reaches," said Nie.
"The volume of freight passing through the locks has risen faster than we anticipated, and in 2011 the annual freight volume exceeded the designed capacity of 100 million tons."
In response to complaints from shipping companies that the waiting time to pass through the locks is excessive, the State Council and the National Development and Reform Commission have ordered experts and related institutes to conduct research into the creation of a new channel to relieve the pressure on the existing locks.
In addition, research is being undertaken to identify other ways of increasing capacity and reducing the strain on the locks, such as the use of standard-sized vessels, so a greater number of ships would be able to pass through at the same time, and transferring cargo to ships on the other side of the lock by road or rail. A ship lift is scheduled for completion in 2015, which should reduce the waiting time.