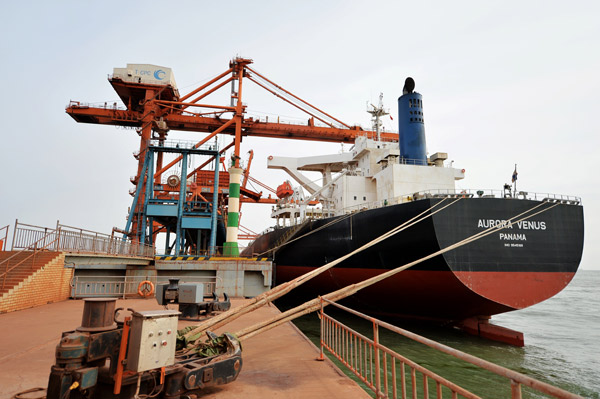 A ferry carrying ores docks at a port in Caofeidian,Tangshan, hebei.[Photo/Xinhua]
Traditional bases for heavy industry grapple with impact of overcapacity
Of the 19 provincial-level governments that have released GDP data covering the third quarter, 12 reported a slowdown as overcapacity in traditional industries took a toll.
Provincial-level governments commonly release GDP data shortly after the central government unveils the national figure, which was 7.3 percent in the third quarter.
The local statistics, which were for the first nine months, provide a level of detail and insight into the economy that national figures do not provide.
The results offered scant comfort. The deepest deceleration was in the northwestern province of Qinghai, where GDP growth slid from 10.2 percent in the first six months to 9.5 percent in the first nine months.
In Hebei, adjacent to Beijing, the local government has been cutting steel and iron capacity to adjust its economic structure and improve regional air quality.
The province grew 6.2 percent in the first three quarters, the lowest rate among the provinces, which nonetheless reflected a rebound from the second quarter. Hebei only grew 5.8 percent in the first half.
Provinces where traditional manufacturing industries such as steel, iron and chemicals play a large economic role were hit hard.
Such was the case in Qinghai, Yunnan province (where growth slowed to 8 percent in the first three quarters from 8.4 percent in the first half), the northern industrial hub of Tianjin (growth slowed to 10 percent from 10.3 percent) and the Xinjiang Uygur autonomous region (growth slowed to 9.8 percent from 10 percent).
The Producer Price Index, a gauge of factory-gate prices, dropped 1.8 percent year-on-year, the National Bureau of Statistics said, the 31st consecutive month for the index to decline.
The month-on-month contraction in the PPI in September was faster than in the previous two months, indicating that deflation in the industrial sector accelerated.
Heilongjiang province, where one large oilfield (Daqing) contributed more than half of the province's industrial output, was hit hard by decreased crude production. The province grew just 4.8 percent in the first half, the lowest level nationwide. In 2013, it grew 8 percent.
It still has not released its first-half data. Neither have other resource-dependent provinces such as Shanxi and Jilin, which are likely to match Hebei's low.
Their difficulties underscore the "limits of the traditional development path" and the "urgency to find a new growth model", said Xu Fengxian, a regional economics researcher with the Chinese Academy of Social Sciences, the leading government think-tank.
The economic circumstances have made it difficult, if not impossible, for many provinces to achieve their growth targets set earlier this year.
For example, Yunnan set an 11 percent growth target, but it only grew 8 percent in the first three quarters.
And southwestern Guizhou province set a 12.5 percent growth target, but it only grew 10.7 percent in the first three quarters.