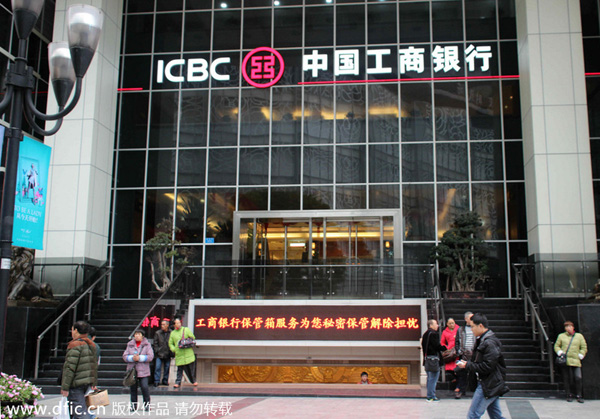 Pedestrians walk past a branch of ICBC (Industrial and Commercial Bank of China) in Chongqing municipality, Dec 14, 2013. [Photo/IC]
SINGAPORE - The Singapore branch of global banking giant Industrial and Commercial Bank of China (ICBC) issued 4 billion yuan ($640 million) of Lion City bonds, or offshore Renminbi bonds issued in Singapore, the bank announced on Monday.
It was the biggest Lion City bond issuance to date, eclipsing its previous record of a 2 billion yuan bonds issuance in 2013.
The 4 billion yuan bonds issued were priced in three tranches, comprising 2 billion yuan two-year bonds, 700 million yuan of bonds with a maturity of five years, and 1.3 billion yuan of seven- year bonds, priced at 3.5 percent, 3.7 percent and 3.95 percent, respectively.
The two-year tranche will be listed on the Singapore Exchange, while the five-year and seven-year tranches will be dual-listed on the Singapore Exchange and the GreTai Securities Market (GTSM) in China's Taiwan. It is also the first dual-listed offshore yuan bonds on the Singapore Exchange and the GTSM.
The bond issuance was well-received across Asia and Europe, with orders for the hybrid Lion City bonds exceeding 7.3 billion yuan, allowing the bonds to be priced 10 to 15 basis points tighter from the initial price guidance.
ICBC Singapore said that the landmark transaction underscores its "continued commitment to the development of the offshore RMB markets" and the importance of Singapore as an offshore RMB hub.
The transaction also bridges the Singapore and Taiwan offshore RMB markets, helping furthering the internationalization of the currency and showing the tremendous potential for collaboration between the two markets, it added.