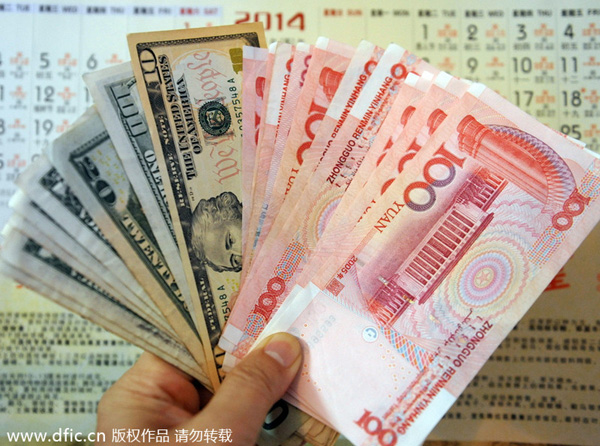 A Chinese resident displays his Chinese currency and US dollar banknotes in Qionghai city, South China Hainan province, March 15, 2014. [Photo/IC]
BEIJING - The value of the Chinese currency renminbi, or the yuan, strengthened by 95 basis points to 6.1425 against the US dollar in its central parity on Wednesday, according to the China Foreign Exchange Trading System.
The rate hit its highest point against the dollar since March 19, when the central parity rate was recorded at 6.1351, according to the central bank's RMB central parity chart against the dollar.
Wednesday's gain has extended a rallying trend since Sept 5. The yuan's central parity rate gained 187 basis points on the previous trading day.
The Chinese currency had started a largely downward run against the dollar since the beginning of the year, before turning to more frequent two-way fluctuations mid-year. The central parity rate stood at 6.0990 against the dollar on Jan 2.
Official data on Monday showed China's monthly trade surplus hit a record high again in August, as improving external demand fueled exports, and weak domestic investment and falling commodity prices continued to affect imports.
August trade surplus jumped 77.8 percent year on year to $49.8 billion, after reaching an all-time high of $47.3 billion in July.
Barclays chief China economist Chang Jian said the record high trade surplus is likely to add further upward pressure on the value of the Chinese yuan in the near term, but she also said more volatility in the exchange rate is expected.
In China's foreign exchange spot market, the yuan is allowed to rise or fall by 2 percent from the central parity rate each trading day.
The central parity rate of the yuan against the US dollar is based on a weighted average of prices offered by market makers before the opening of the interbank market each business day.