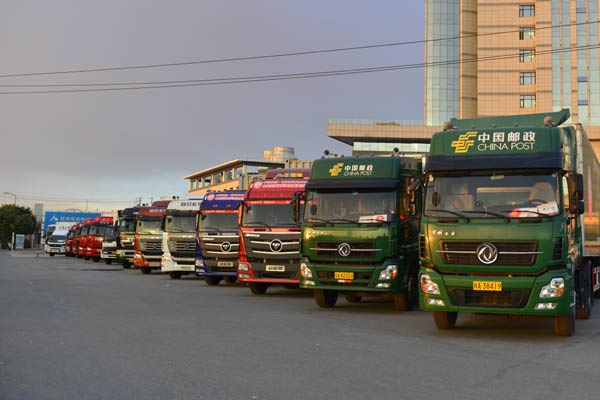 Teams of trucks depart from Lanzhou, Gansu province, for the Xinjiang Uygur autonomous region. WANG YU/CHINA DAILY
Truck drivers in China are essential to a host of other people, including farmers, online shop owners and businesses that are dependent on road haulage.
Now they are also a catalyst to the nation's aspiration to establish a Silk Road Economic Belt.
In a symbolic truck rally that crossed the nation from its eastern coastal provinces to the westernmost Xinjiang Uygur autonomous region, drivers from nine teams tested and honed their skills to show they are ready to act as "transport envoys" between China and central and western Asian countries.
The teams drove 4,500 kilometers and crossed four provinces - Jiangsu, Henan, Shaanxi and Gansu - as well as the Ningxia Hui and Xinjiang Uygur autonomous regions.
After 15 days of travel, the vehicles competing in the first Silk Road Truck Rally arrived at their final destination, Urumqi, on Aug 28.
Along their route, several forums were staged where experts and businesspeople involved in the transport and logistics industries could exchange their ideas on the cross-border movement of goods.
The event was sponsored by the Ministry of Transport and the regional government of the Xinjiang Uygur autonomous region, and was organized by the ministry's China Academy of Transportation Sciences.
Promising initiative
When President Xi Jinping visited four central Asian countries - Turkmenistan, Kazakhstan, Uzbekistan, and Kyrgyzstan - last September, he proposed setting up a Silk Road Economic Belt, which would encompass more than 40 Asian and European countries.
The proposed economic belt is inhabited by "close to 3 billion people and represents the biggest market in the world with unparalleled potential", the president said.
In November, the development of the Silk Road Economic Belt was included in a set of top-level government guidelines and became a national strategy.
Transport Minister Yang Chuantang has suggested that countries along this modern Silk Road should accelerate the building of cross-border railways and roads, facilitate international container transportation, and further open up their transport industries to allow room for global cooperation.
He made these proposals during the first Silk Road Economic Belt Transport Summit that was held in Urumqi, capital of the Xinjiang Uygur autonomous region, on Sept 2, as a part of the fourth China-Eurasia Expo. The summit was attended by transport officials from countries such as Kazakhstan, Latvia and Pakistan.
He said the Silk Road Economic Belt will benefit peoples of nations along it and realizing this ambitious plan requires sophisticated efforts and concerted actions from the countries involved, which should build more transport hubs that can connect road, rail and air transportation.
He urged the authorities concerned to make favorable policies to boost their countries' logistic businesses and cross-border trade, adding cooperation can be deepened in terms of infrastructure construction, technological innovation, environmental protection as well as emergency response.