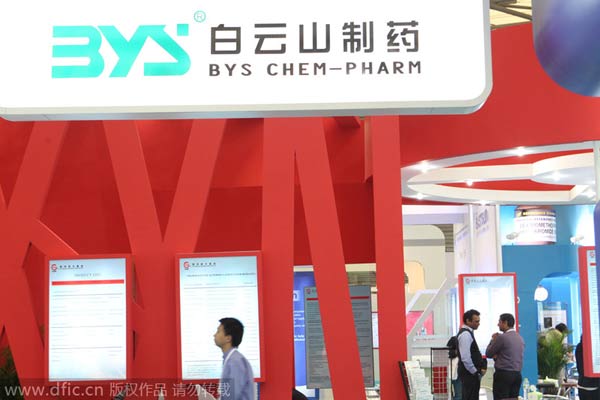 People visit the stand of BYS CHEM-PHARM (Guangzhou Baiyunshan Pharmaceutical Holdings Co Ltd) during an exhibition in Shanghai, China, June 28, 2012. [Photo/IC]
The first official approval for a domestic drug company to make generic erectile dysfunction medicine known as sildenafil citrate is expected to shake up a market that has been dominated by foreign manufacturers.
The United States-based Pfizer Inc's patent for the medicine, known under the brand name Viagra, expired in China in May.
Shanghai-listed Guangzhou Baiyunshan Pharmaceutical Holdings Co said on Tuesday that it had received approval from the China Food and Drug Administration to make sildenafil citrate-based active pharmaceutical ingredients and tablets.
APIs are single substances or mixtures of substances used to make medicines.
"We will move as fast as possible to start production and sales of Jinge," said the statement, referring to the name the drug will be sold under.
The company said it will soon hold a news conference to give further details.
Domestic players have been waiting to grab a share of the ED medicine market in China. Hong Yang, an analyst at Soochow Securities Co, has estimated the market at 1 billion yuan ($162.78 million) annually.
The website of the Center for Drug Evaluation of the CFDA indicates that in 2013 and 2014, the center processed 13 applications to make generic sildenafil citrate tablets and four to make generic sildenafil citrate APIs.
Pfizer currently accounts for half of China's ED medicine market, Hong said. Other significant players are Eli Lilly and Co and Bayer AG.
Guangzhou Baiyunshan will have a price advantage over foreign producers, Hong said, as well as being first to win approval ahead of domestic competitors.
The company has an extensive retail distribution network through China's drugstores, he said.
Liu Shuchang, an analyst at Changjiang Securities Co Ltd, said the brand, price advantage and distribution channels will help Jinge generate revenue of more than 500 million yuan within a short time.
Domestic players will grab some of the existing market and enlarge the overall market through their distribution networks, which extend beyond large cities and drugstores, Hong said.
Guangzhou Baiyunshan's first-half revenue was up about 10.5 percent to 10.02 billion yuan, with net profit up by about 14.7 percent to 673.66 million yuan.
Parent company Guangzhou Pharmaceutical Holdings Ltd ranked 219 on the Top 500 Chinese Enterprises list released by the China Enterprise Confederation and China Enterprise Directors Association on Tuesday.
For the past three years, Guangzhou Pharmaceutical has been first on the list of China's top 100 pharmaceutical companies issued by the Ministry of Industry and Information Technology.
It aims to generate revenue of 65 billion yuan this year, said Chairman Li Chuyuan.
Liu Kanyan contributed to this story.