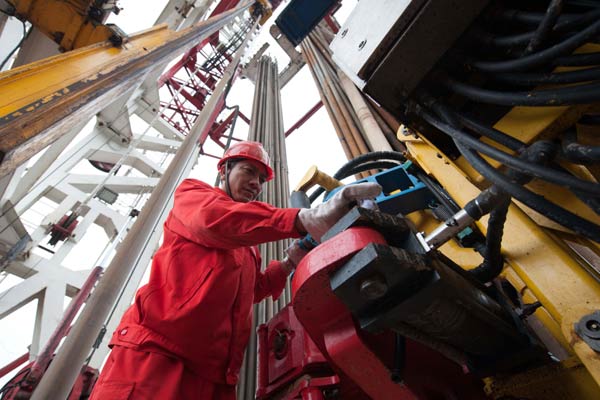 A worker is seen at a shale gas drilling station owned by China Petroleum Chemical Corp in Fuling, Chongqing. Water shortages pose a huge hurdle to China's development of its shale gas reserves, according to a report from the Washington-based World Resources Institute. It found that 38 percent of global shale resources face high to extremely high water stress or arid conditions. LIU CHAN/XINHUA
Country has large reserves but location makes exploration difficult
Water shortages pose a huge hurdle to China's development of its shale gas reserves, a report warned on Tuesday.
The Washington-based World Resources Institute found that 38 percent of global shale resources face high to extremely high water stress or arid conditions. Water is critical in hydraulic fracturing (also called fracking), a technique used to extract shale gas.
"In China, we found large amounts of shale resources. However, most of these are located in areas of water stress," Paul Reig, an associate at the WRI and the lead author, told a conference call.
More than 60 percent of China's shale resources are in areas of high to extremely high baseline water stress or arid conditions. This situation places China among eight of the top 20 countries with the largest shale gas resources that also face water constraints in developing those deposits.
Baseline water stress refers to the ratio of total water withdrawals to available renewable supply in an area.
According to the report, Global Shale Gas Development: Water Availability & Business Risk, the Sichuan play, now China's most commercially viable shale resource, combines areas of low and very high baseline water stress.
More than 95 percent of the Tarim play in the Xinjiang Uygur autonomous region is subject to extremely high baseline water stress or arid conditions.
In the exploration industry, plays are formations with significant accumulations of natural gas that have similar geologic and geographic properties.
These conditions pose major challenges for companies that want to develop these resources, which are also often in areas of high population density, the report said.
"With many countries already facing arid conditions and high water stress ... this report can help to ensure that there's enough water available for industries, farms and people, even if shale development advances," Reig said. "There are smart and practical steps that countries and businesses can take to help reduce the water risks posed by future shale development."
The report made recommendations to help governments, companies and the public protect water security while minimizing business risks.
They include conducting water risk assessments; increasing transparency; establishing ties with local regulators, communities and industries; and minimizing fresh water use.