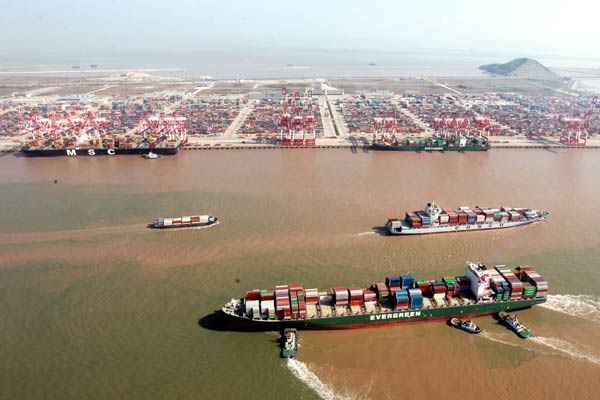 Cargo ships depart and arrive at Yangshan Port in Shanghai.FAN JUN/XINHUA
China will allow overseas investors to establish and own shipping enterprises, according to new guidelines that aim to boost the deficit-plagued sector.
The guidelines issued by the State Council on Wednesday pledged to give an open door to foreign investors and private companies in the shipping industry.
Shipping businesses fully owned and controlled by foreign investors can be founded within the China (Shanghai) Pilot Free Trade Zone, according to the guidelines.
China's shipping industry is dominated by large State-owned enterprises such as China Ocean Shipping Group Co and China Shipping Group Co. They have struggled with slumping revenues since 2008, when the global financial crisis crippled international trade.
The 10 shipping companies listed in China reported a total loss of nearly 1.5 billion yuan ($243 million) for the first six months of this year, according to their financial reports.
"Compared with their counterparts in nations that have strong shipping industries, the Chinese shipping companies have been haunted by longtime deficits and their fleets are much smaller," He Jianzhong, vice-minister of transport, said at a Beijing news conference on the guidelines on Wednesday. "Their technological capability is also weaker than foreign competitors," he added.
Currently, more than 90 percent of China's international trade is carried out by sea, according to official data. But He said only 25 percent of China's imports and exports are carried by domestic shipping companies.
The vice-minister said that there are more than 240 shipping companies in China and their fleets have a total cargo capacity of more than 100 million metric tons, accounting for 8 percent of the global cargo shipping industry.
To boost the industry, the central government has decided to restructure the shipping sector by prioritizing its development as a national strategy, facilitating the expansion of selected enterprises and helping coastal cities build "international shipping hubs".
Favorable taxation and fiscal policies will play an important role in enhancing shipping enterprises' capacity and making them greener and more competitive, the guidelines said, noting the government plans to create a modern shipping industry by 2020.
Over the past year, the Ministry of Transport has abolished 26 administrative approval procedures that governed shipping operations, aiming to reduce government intervention, He said.
"The guidelines encourage shippers to sign long-term contracts with shipping companies, which can be translated as encouraging Chinese traders to hire domestic shipping providers rather than foreign companies," the 21st Century Business Herald quoted an unidentified industry insider as saying.