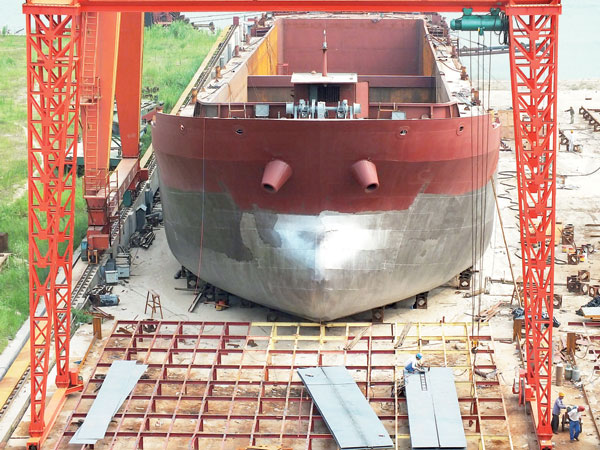 A ship built by Chinese shipbuilder Yichang Jiangsen Ship Building Co at a shipyard in Yichang, Hubei province. [Provided to China Daily]
Builders doing what they know best, but they may be creating a glut of ships
The shipping industry may have planted the seeds of its next crisis, even as it works to finish recovering from the last one, with a rise in the number of ships now being built in Asia.
Many new ships are being built, mostly at Chinese or South Korean shipyards. When these hit the water over the next year or two they will create a glut that could hurt prices and push the industry into a new crisis.
Chinese shipyards have been the biggest beneficiaries of this surge in new orders, says Ralph Leszczynski, head of research at shipping services group Banchero Costa. Last year, there were a reported 968 new orders for dry bulk carriers of almost all sizes. The largest supramax vessels were in particularly high demand, amounting to 390 of those orders. Reports of new orders in the first few months of this year-155 in January and February alone-suggest this year may be just as busy.
The vast majority of new ships are coming from China, which built 591 dry bulk ships last year compared with 237 in Japan, 60 in South Korea and another 46 elsewhere in the region. In 2012, Chinese ship-yards built less than a third compared to 2013.
The number of orders for tankers also rose last year, to 317 new ships from just 121 in 2012. The global tanker fleet is expected to grow 5 percent this year and 7 percent in 2015.
While Chinese shipyards are building most of the world's dry bulk carriers, shipyards in South Korea are building the largest number of tankers. The number of orders for product tankers, the ships that carry such commodities as natural gas, skyrocketed to 237 in South Korean shipyards from just 69 in 2012. Most of those ships will be launched in 2015.
Oil tankers are typically counted separately and 53 of them were ordered through-out last year, 21 from yards in South Korea and 23 from yards in the Chinese mainland.
Given that the time lag between when a ship is ordered and when it is com-missioned-or put into active service-is between 18 and 24 months, all those new orders could create a serious problem for shipping companies and ship owners.
A sudden rise in the amount of available shipping capacity would hurt prices and profits at shipping companies, many of which are still struggling to recover from the last huge downturn in the industry fol-lowing the global financial crisis in 2008.
"In two years' time there will be a lot of tonnage coming online," says David Cheng, honorary chairman at Credit Agricole Ship Finance Asia.
The global dry bulk fleet should grow by 7 percent this year with more than 700 ships of more than 20,000 dead-weight tons. The fleet is projected to grow by another 5 percent next year and a further 3 percent in 2016 to approach 800 ships.
"Interest for new bulk carrier buildings really started to pick up exponentially throughout last year, reaching a peak of almost 13 million dead-weight of new orders in November," says Leszczynski.
Something similar is happening with tankers, where capacity is climbing back to what Leszczynski calls dangerous levels. The 317 orders last year were almost three times as many as in 2012.