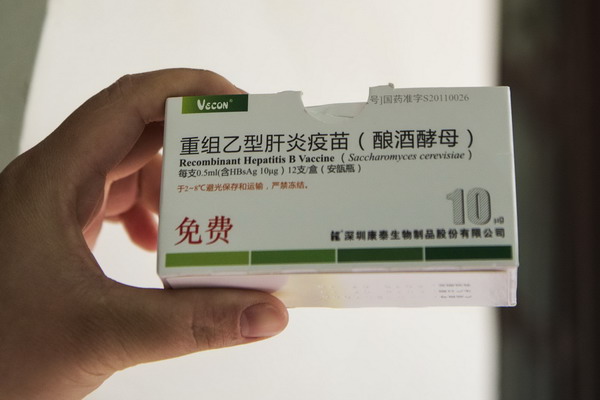 Chinese authorities issued a circular on Dec 20, 2013 to ban the use of the recombinant hepatitis B vaccine produced by the Shenzhen-based BioKangtai company. [Photo by Xie Changgui / Asianewsphoto] 
BEIJING - China's three biggest hepatitis B vaccine manufacturers have suspended production, the food and drug administration announced late on Thursday.
BioKangtai, Tiantan Biological Products and Dalian Hissen Bio-Pharm  failed to meet the 2010 good manufacturing practice (GMP) code for all pharmaceutical manufacturers by the deadline at the end of 2013. Those who did not reach the new standards must suspend production in 2014.
Over the first 11 months of last year, hepatitis B vaccines produced by the three suppliers accounted for about 80 percent of the total output.
Hepatitis B vaccines sold in China are produced by seven companies, including British pharmaceutical company GlaxoSmithKline. Only two have passed the new GMP certification, responsible for no more than 10 percent of sales.
The statement by the China Food and Drug Administration (CDFA) says that companies may resume production after certification. Li Guoqing, a senior CFDA official, said vaccine supplies are sufficient to meet market demand.
The authority has clarified that vaccines produced before the deadline can still be sold. The five suspended manufacturers have inventories of qualified vaccines for about 25 inoculations, Li said.
The authority will organize increased production if necessary, the official said.