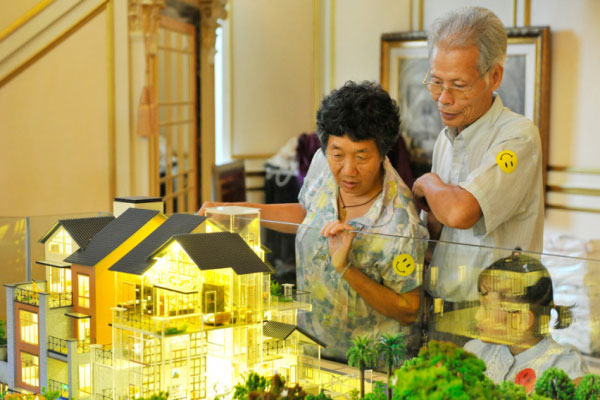 Citizens look at the residential building models in Zhongshan city, South China's Guangdong province, Aug 1, 2014. [Photo/CFP] 
BEIJING - A number of Chinese cities have loosened property purchase rules to try to kickstart the languid real estate market, but insiders reckon the effects could be limited.
Taiyuan city in north China's Shanxi province officially lifted restrictions on Tuesday, allowing people to buy as many units as they want. At least 30 cities have now fully or partially removed constraints this year, such as high downpayments and second-home restrictions.
Alan Chiang of property firm DTZ said he expected the central government to be sympathetic to cities that rely heavily on the real estate industry.
The loosening of restrictions may fail to boost sales as expected in light of the negative sentiment among potential buyers, said Fitch Ratings on Thursday.
In June, 55 out of a sample of 70 Chinese cities saw month-on-month home price drops, the most in 30 months. Even home prices in first-tier cities such as Shanghai and Guangzhou showed signs of declining.
Andy Chang of Fitch said the "wait-and-see" mood is being boosted by cash-strapped developers offering discounts.
More significantly, tight lending policies are holding back buyers without ready cash, although state-owned commercial banks have been asked to support first-time buyers.
As there is no written or formal executive order, banks appear not to be active in mortgage applications and mortgage rates in many cities are set at five to 10 percent above the base rate. New loans to home buyers fell in the first half of 2014 by 23.9 billion yuan ($3.9 billion).
"Changing the rules will hardly reinvigorate the market if not accompanied by monetary easing," said Dong Fan, a property market researcher at Beijing Normal University.
To make things worse, Chang believes that further relaxation, without appropriate controls, will encourage speculation in residential property in the long term.
Restrictions were introduced in Beijing in 2010 and expanded to most major cities in 2011, which helped suppress speculation in residential property. But the residential market has been under pressure since early 2014, with tightened credit, corporate bond defaults and an anti-corruption crackdown.
Many analysts believe the underlying reason for the listless market is the mismatch between demand and excessive supply in small cities and towns.
While Chiang believes a full scale consolidation of the real estate market is inevitable, he is optimistic in the long run.
"We expect that the real estate market will return to being end-user driven and prices will assume more affordable levels, particularly in the third and fourth-tier cities," said Chiang.