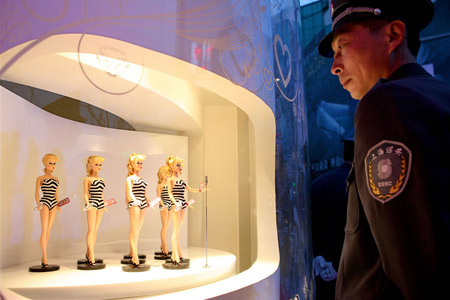 Barbie dolls at the Shanghai Barbie store.[Photo/China Daily]
GUANGZHOU - Barbie dolls have long been seen as a symbol of the Chinese toy industry -- mass produced with minimum profit and at the bottom of the global market chain. But now, more Chinese toy manufactures believe it's time to say goodbye to Barbie.
At the ongoing 115th Canton Fair, a sales staff from a toy manufacturer in East China's Jiangsu province said although original equipment manufacturing (OEM) was China's traditional strength, overseas orders have been slipping.
"We are losing markets in the US and Europe. Though markets are expanding in some emerging economies, it's not enough," said Qian Limin, a deputy general manager of Jiangsu High Hope International Group.
"The cost of labor in China is rising fast. If a company relies on OEM, it will struggle," Qian said.
The biannual Canton Fair, also known as the China Import and Export Fair, is seen as a barometer of the country's exports.
China's toy industry, which takes up 70 percent of the world's market share, is now facing challenges at home and abroad.
Since the 1980s, China has become the world's biggest toy manufacturer and exporter. South China's Guangdong province is the country's biggest toy manufacturing and export base. In 2013, exports hit $24.73 billion.
The huge production capacity, however, mostly relied on processing trade, with raw materials and markets both outside the county. The global economic crisis in 2008 and the rising cost of labor in China have dealt a heavy blow to the current structure.
Huang Xiaodong, a senior executive of a toy manufacture in Zhongshan city of Guangdong province, said the appreciating yuan against the US dollar and the rising cost of labor have led to increasing pressures on toy-making companies.
Businesses need to transform from OEM to OBM (Original Brand Manufacturing) to tackle these problems, Huang said.
"Innovation is the future, but we need to make efforts," said Li Zhuoming, senior vice chairman of Guangdong Toy Association.
"China's toy market still has great potential, after the loosening of the one child policy," Li said. "The future market is attractive."
Li Xinxin, another toy sales staff at the fair, said good toys should be child's companion, or should serve as a communicator.
Li's firm, the Hong Kong-based Chuangjia Ltd Company, introduced a new toy at the fair. The intelligent electric dog receives instructions and reacts according to orders. The dog can communicate with children on a basic level.
"People are expecting more from toys. We need toys which are 'alive' and can communicate. This is the future," Li said.
 A glimpse of China children's toys over the years
Toy makers feel pinch of decrease in exports
Children toy with new forms of leisure