As world economy stutters, nation's businesses focus on domestic sales
Traditional toy makers in China say they are being hit hard on two fronts: a dramatic fall in exports and a huge rise in the popularity of electronic toys.
"Our sales revenue dropped 20 percent last year, largely due to the decline in export orders," said Ye Shuhui, manager of Ningbo Jinfan Toy Co, which sells most of its toys to the United States, Europe and Southeast Asia.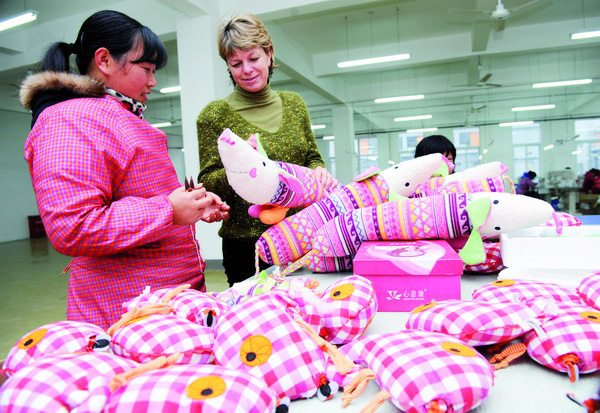 An overseas businesswoman examining cloth toys at Huainan Youtong Toy Co in East China's Anhui province. The Anhui toy maker exports its products to the European market. The per capita monthly income of its staff, most of whom are from the countryside, is nearly 2,000 yuan ($321). [Photo / China Daily] 
"The world economy has performed dreadfully over the past year and so the gloomy export market has given us enough headaches without even thinking about the challenge being posed by electronic toys."
Although the number of orders picked up in the latter half of 2012, said Ye, it still didn't help much.
Instead of calculating how much profit the company made last year, he added that this year he is still simply thinking about survival.
"Expensive toy making in China still belongs to a labor-intensive industry," he added, meaning that to make ends meet, the only solution has been to raise prices by about 30 percent.
According to estimates by Euromonitor, the market research firm, total retail sales of toys and games in China soared in value from $3.89 billion in 2007 to $8.3 billion in 2011, registering an average annual growth rate of 21 percent.
China's toy exports were worth $11.45 billion in 2012, a slgiht rise of 5.8 percent year-on-year, according to the Shanghai-headquartered Wind Information Co.
For most export-oriented toy makers in Yangzhou, in East China's Jiangsu province, the story is the same, despite its reputation as being the country's best known toy manufacturing area.
"Overseas orders were down by at least 40 percent in 2012 and that's had a huge impact on Chinese toy exports," said Yang Junliang, the sales manager of Yangzhou Oasis Ocean Toys.
"Although labor costs have remained steady over the past year, workers' salaries at around 3,000 yuan ($482) a month are still considered high by factory owners.
"Polyester, the raw material we use the most, has also seen its price rise by about 10 percent since June last year," added Yang, who used to export his toys to United States and most of Europe.
According to export analysts, the world's economy remained stagnant last year.