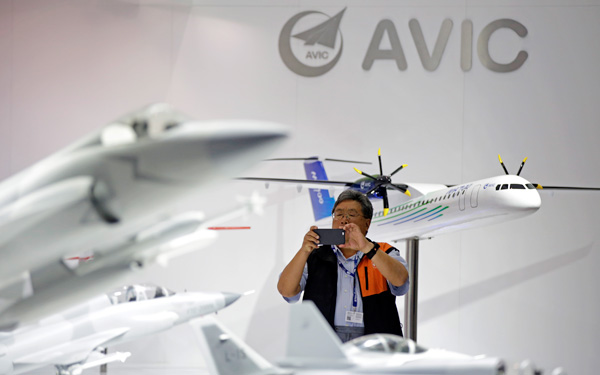 A visitor uses a smartphone to photograph model aircraft on display at the Aviation Industry Corp of China stand at the 51st International Paris Air Show in France in 2015. [Photo/CFP]
GUANGZHOU - A leading Chinese aviation company will partner with a French firm to develop giant airships for heavy-weight air cargo, company sources said Friday.
China Aviation Industry General Aircraft Co Ltd (AVIC) will invest in French start-up Flying Whales, for its competence in design, manufacturing, sales and servicing, on the development of a new airship code-named LCA60T, the sources said, citing an agreement signed by the two sides Thursday. The amount of investment was not disclosed.
LCA60T, touted as the world's largest airship, could radically change global aerial cargo transportation. Gu Biao, deputy director of AVIC Research Institute, predicted that LCA60T would "revolutionize" the transportation sector and would be in high demand.
Earlier foreign media reports disclosed that the 140 to 150 meter-long LCA60T, which will be capable of carrying 60 tons of cargo, will probably be unveiled in 2019.
Flying Whales executive CEO Sebastien Bougon said he hoped the Chinese engineers would join the project as soon as possible as their experience would be invaluable to the remaining obstacles, especially safety issues.