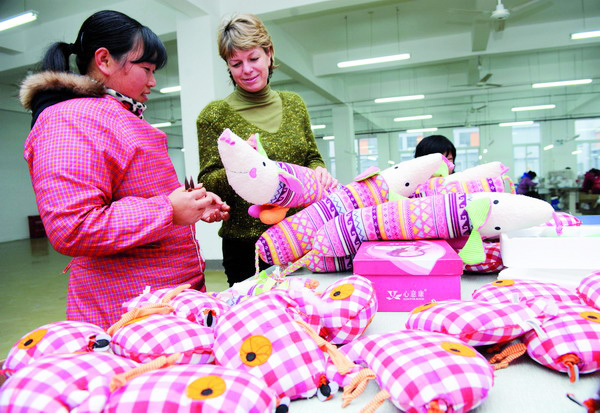 An overseas businesswoman examining cloth toys at Huainan Youtong Toy Co in East China's Anhui province. The Anhui toy maker exports its products to the European market. The per capita monthly income of its staff, most of whom are from the countryside, is nearly 2,000 yuan ($321). [Photo / China Daily]
BEIJING - Nine domestic toy producers have applied to local quality watchdogs to recall some of their products, the General Ad
mini
stration of Quality Supervision, Inspection and Quarantine said on Monday.
The producers are from Shandong, Hubei, Shanghai and Beijing, including Tengzhou Wanbao Stroller Co Ltd, Shandong Qiyue Children's Tricycle Co Ltd and Shanghai Aillia Industry Co Ltd. The flawed products are mainly strollers, children's tricycles and building blocks.
The defects are found in various parts including cords, wheels and brakes. The defects may harm children, said a statement from the administration.
If consumers find any defects in toys, they should complain to local quality watchdogs or the administration directly, the statement added.