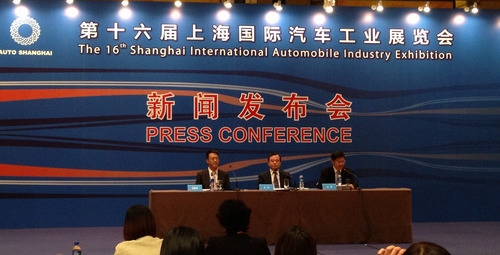 The press conference for the 16th Shanghai International Automobile Industry Exhibition was held in Beijing on April 25,2014.[Photo / chinanews.com]
Next year's 16th Shanghai International Automobile Industry Exhibition plans to revamp its schedule, relocate to new venue and provide improved indoor air quality as it gears up to deliver a better experience to car companies, media people and visitors, said organizers in Beijing Friday.
They will designate two media days, April 20 and 21, instead of one, for reporters attending the event, said Wang Lie, president of the Shanghai Sub-Council of the China Council for the Promotion of International Trade, at a press conference in Beijing Friday. The Sub-Council is one of the auto show organizers.
"Reporters were finding it difficult to cover everything in just a single day," said Wang.
"We want to give enough time to media people to highlight new trends in the car industry, especially to those who are unable to visit the event, and we also want car manufacturers to make full use of the second media day," Wang added
The auto show in the past several years had only one day for media reporting, for a reason that car manufacturers were not holding media activities on the second day, according to Wang.
The Shanghai auto show is set to open to the puclic on April 22, 2015, and last till April 29.
In addition to providing more opportunity to media people, the organizers have also decided to relocate the show to the National Exhibition and Conference Center (Shanghai) as the original venue was becoming too crowded to accommodate the ever-expanding exhibition.
The 2013 event was held on 280,000 square meters of exhibition space and attracted 1,800 auto companies from 18 economies and 813,000 visitors. A total of 1,300 cars were displayed and 10,493 reporters covered the show.
Although the new venue in Hongqiao central business districtis connected to Shanghai Subway Line Two and is close to the high-speed train station and the airport, whether Shanghai's traffic system can manage the expected increase in visitors' number is yet to be seen, said Wang Lie.
He said organizers will work with the venue manager and the government to make the experience as enjoyable as possible.
As far as the air quality is concerned, Gu Chunting, president of the co-organizer, Shanghai International Exhibition Co Ltd, said they are planning to lay down standards that exhibitors will have to follow inside the venue.