Old-fashioned games give way to electronic devices, gadgets
For Wu Jia, a 14-year-old student from Guangdong province, building blocks and model cars - toys with which he used to happily play - are no longer attractive.
An iPad, which he bought with his hongbao (red envelope) a year ago, now occupies his spare time.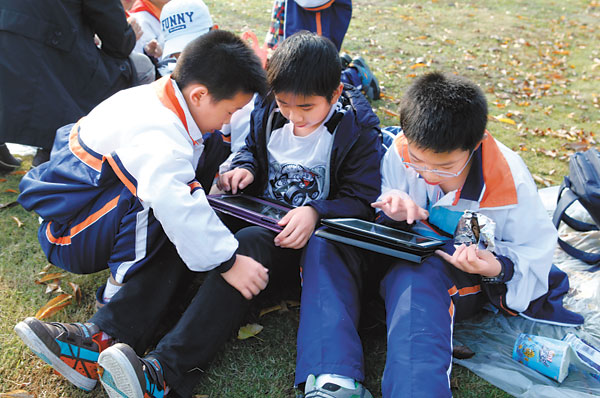 Two primary school students playing games on their iPads while another keenly watches. Electronic games and devices, including iPads and smartphones, are making up an increasingly large share of the Chinese toy market. Traditional children's presents such as dolls and toy cars have been hit hard. Zhu Haiwei / For China Daily
He normally uses the device to go online and play games once a week when he returns home from school. "The iPad and iPhone are the most popular distractions among my classmates," he said.
Wu's two younger brothers also quickly fell in love with the high-tech gadget produced by US-based Apple Inc. "They (the younger brothers) have an iPad and an iPod Touch now. Our mother usually allows them to play as a reward when they behave well," Wu said.
Just like Wu, Chinese children, especially those living in cities, are developing a strong interest in high-tech electronic devices, analysts have discovered.
"If we look around, children are borrowing iPads and iPhones from their parents. They turn out to be quick learners and have much fun with their new favorite 'toys'," said Xiong Xiaokun, an analyst at CIConsulting.
"Electronic toys and devices, including iPads and smartphones, are eating up an increasingly large share in the Chinese 'toy' market," Xiong said. "Traditional children's presents such as dolls and toy cars have encountered a strong challenge."
What is happening in China now has already emerged in the United States. According to a survey conducted by Nielsen, about half of US children, aged between 6 and 12, wanted an iPad as the No 1 present last Christmas. The Nintendo Wii, iPod Touch, iPad Mini and iPhone are the top five children's dream gifts, the survey revealed.
On Taobao.com, China's largest e-commerce website, sales of electronic toys are on the rise.
Total sales of electronic toys in December were more than six times those a year earlier. The number of people who purchased this category rose by 367 percent over the same period, according to figures provided by Taobao.