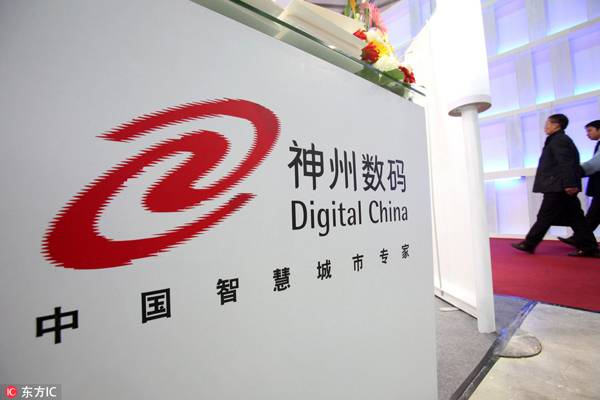 Visitors walk past the stand of Digital China during the 14th China International Industry Fair in Shanghai, November 8, 2012. [Photo/IC]
China's largest IT service provider Digital China Group Co Ltd signed a cooperation agreement with Oracle (China) Software System Co Ltd on Thursday, seeking larger enterprise market shares in China.
The cooperation aims to enable Digital China to provide enterprise clients with more products with their own brand. With the help of Oracle, Digital China will arrange sales cooperation, marketing training, project management and augment technical support.
According to Digital China, it will introduce an all-in-one database machine, based on Oracle's core technology.
"To drive the partnership, Digital China will set up a special technical team. We will also invest more money in technology, talents, market and other related fields. In the future, both sides will tap deeper to meet market demand in terms of the internet, cloud computing and big data," said Ye Haiqiang, vice president at Digital China.
Li Hanzhang, senior vice president of Oracle, said, "Digital China has been deeply involved in China's information technology for more than 30 years, having a thorough understanding of the Chinese market and users' needs. We are glad to see our partnership moving forward."
Oracle, which first entered China in 1989, offers a fully integrated stack of cloud applications and platform services for more than 420,000 customers across 145 countries and areas.
To date, Digital China has built China's biggest IT marketing network, covering 860 cities and 30,000 partners in China. The company has provided information technology products, solutions and services for more than one million Chinese enterprises.
As the internet and information technology penetrates the economic and social fields, information security has become increasingly important, according to a report released by Shenzhen-based CI Consulting. Last year, the global information security market totaled $124.2 billion with an annual growth rate of 12 percent.
Digital China's president Yan Guorong said, "We are doing three things today, including building our own branding, cloud marketplace platforms and B2B ecological platforms. In terms of our own branding, we will cooperate with more suppliers."