Specialized skills can help foreign professionals power ahead in China's tough employment market.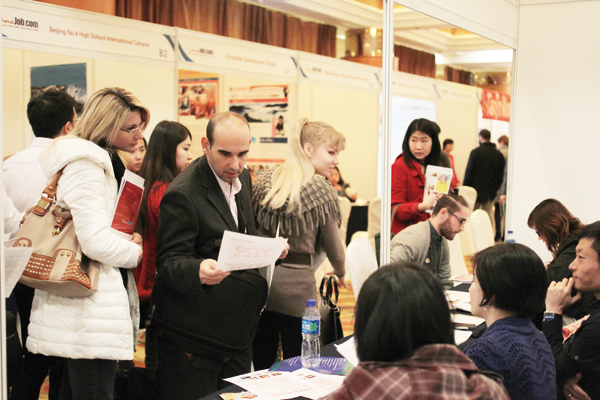 The Job Fair for Foreigners was held in Beijing on Nov 16. Official statistics show there are about 550,000 foreigners working in China. [Wang Jing / China Daily]
They filled the second floor of the Swissotel in Beijing with forced smiles, pressed shirts and smart skirts, a flood of hopeful foreigners clutching at resumes and business cards, drawn by the siren song of good money and career opportunities in the world's second-largest economy.
From behind foldout desks at the annual Job Fair for Foreigners in Beijing, would-be employers surveyed the smorgasbord of imported talent on offer with a discerning eye.
As recently as five years ago, those in the know say most of these hopefuls would have been almost immediately snapped up.
Now, the success or failure of foreigners seeking employment in China is — like the evolving, fragmenting topography of the jobs market itself — much more complex and difficult to map.
Quite a few of those staking their faith in the promise of boom-time China do leave the job fair with interviews arranged, like the 29-year-old Italian international sales manager who gives the alias Caesar because he already has a good job in Guangzhou and doesn't want to alert his boss to the fact he has just received two better offers.
Other hopefuls get the polite palm off, a glossy pamphlet for their troubles and a mumbled nicety to send them on their way.
The subtext of this cocktail of success and rejection stacks up with what employers, academics and recruiters tell China Business Weekly — China is in a state of change and the jobs market is changing with it.
Despite being frequently characterized as boom or bust, those taking a bigger-picture view say the employment market in China can't easily be quantified in absolutes. Some sectors are booming; others are on the wane.
One point of consensus is that it is now generally harder for foreigners to get their foot in the door, outside of the ever-in-demand roles for English language teachers.
China still wants you, but only if you're at the top of your game in a select number of professions — and only if you've put in the effort to make sure you have some China-specific skills that employers now require.
Time-wasters, including anyone who would struggle to get a comparable position in the West, need not apply.
It's one of the main messages foreign job seekers are receiving in e-mail exchanges with prospective employers, in meeting rooms during interviews and in conversations with recruitment agencies.
The other is that if you have the rare luck or foresight to possess a skill set that is currently in demand in certain growing industries — and if your personal background and experience ticks all the boxes — you can almost name your price in terms of wages.
Related Readings:
Talent hunt goes overseas
Talent plan to unleash creativity
Making a pitch for Chinese talent
Global talent lacking in China