Chinese healthcare equipment maker Mindray continues to gain recognition overseas despite some ongoing prejudice, reports Cecily Liu in London
David Yin, managing director of Europe at the Shenzhen-based Mindray Medical International Ltd, recalled that his team's first order from overseas was the result of "an accident".
In 2000, a British company's attention was caught by the "made in China" label displayed on Mindray products at Medica, a trade fair in Germany. The company, which Mindray declined to identify, took the product to a British hospital for a quality assessment and bought it after being assured that it was up to standard.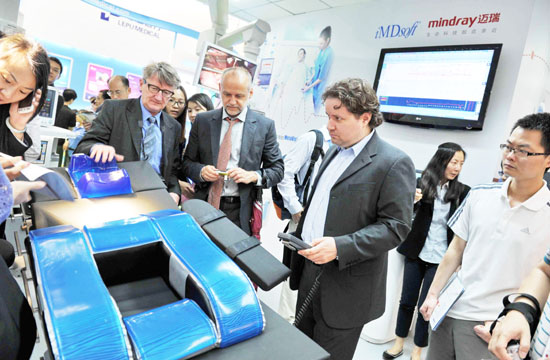 Visitors at a medical equipment trade show in Shenzhen, Guangdong province, look at products on display at Mindray Medical International Ltd's booth. [Photo/China Daily] 
Mindray is now a large player in the medical devices industry, exporting products to 190 countries and regions.
In 2011, it had $881 million in net revenue, more than half of which was generated overseas.
"We are committed to international expansion, especially in Europe and the United States," Yin said. "These two markets are like two fortresses we have to conquer to become a truly global leader.
"In the process of selling our products to Europe and the US, we learn about their strict standards. These lessons become invaluable for our product development at home."
Yin said Mindray's success in Europe and the US has helped it gain the trust of both domestic customers and customers in other emerging economies, who had often favored Western products in the past.
"Some Middle Eastern and Latin American markets only give medical equipment product registrations if they have already been sold in Europe or the US, which just demonstrates how important it is to have a presence in Europe and the US," Yin said.
Mindray was established in Shenzhen, Guangdong province, in 1991, originally as a trade company that sold medical equipment produced by foreign companies in China.
But the founders of the company, Xu Huang and Li Xiting - who had both worked in the 1980s as engineers at a State-owned maker of medical instruments - had ambitions to have Mindray produce its own medical equipment.
Under that impetus, the company began to invest heavily in research and development and developed its first patient-monitoring device in 1992.
Mindray began to prepare itself for international expansion later that same decade after recognizing that the market for medical equipment was smaller in China than in advanced economies such as Europe and the US, where healthcare is a priority of the public sector. One important step it took toward that end was making sure its products met regulatory standards abroad.
Most of the company's devices and equipment bear the European Economic Area's CE marking, meaning they can be sold in the countries that make up European Union, plus in Iceland, Liechenstein and Norway. Some of its products have also won approval from the US Food and Drug Administration.
Yin said the "accident" in 2000 - the company's first overseas sale - could not have occurred without this preparatory work.
"It demonstrated that we were ready for the foreign market," Yin explained.
Since then, Mindray has relied on distributors to export its products to Europe.