The government-backed Beijing International Medical Center was launched on Monday, which senior health officials said would become a new model of medical reform to encourage social and foreign investments in the country's medical market.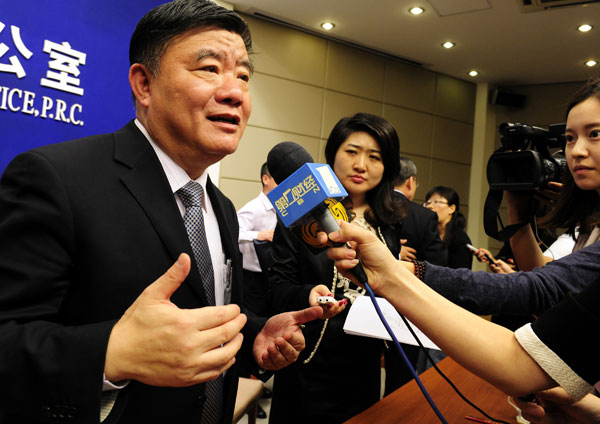 Minister of Health Chen Zhu is interviewed in Beijing on Monday after a news conference in which he explained national healthcare reform and development over the past decade.HE JUNCHANG / XINHUA
Driven mainly by private investments, the center, located in Tongzhou district of Beijing, will become a medical industry hub by 2020 comprising high-end medical facilities, medical research and education institutions, and related industries.
"It's good to try to diversify the current supply of medical services, particularly the high-end, which can barely meet public demand now, and it will serve as a model to be scaled up nationwide," said Ma Xiaowei, vice-minister of health, at the project launch.
It's also part of the medical reform China initiated in 2009 to improve public access to affordable and quality medical care services, he noted.
Currently, private hospitals only have 10 percent of the beds nationally, and the figure is expected to reach 20 percent by the end of 2015, according to the medical service development part of the 12th Five-Year Plan period (2011-2015).
China has more than 6,000 private hospitals, accounting for nearly one-third of the total, but the mainly specialized hospitals provide only 9 percent of medical services supplied on the mainland.
Government departments, including the Ministry of Health and the National Development and Reform Commission, issued a series of policies encouraging non-governmental and foreign investments in the medical market.
Beijing last month issued policies to help private hospitals develop, including favorable taxation policies, simplified registration procedures and giving them priority while planning new hospitals.
Notably, private capital is also likely to invest more in public hospitals and will receive permission to obtain land for new compounds like public hospitals.
Private non-profit hospitals should provide services at prices set by the government, while others are more market-oriented, according to the policies.
Sun Zhigang, director of the medical reform office of the State Council, however, said private hospitals should focus more on special, quality and high-end markets.
Minister of Health Chen Zhu said private hospitals under sound government supervision and management would help better meet public health demands at various levels and improve the country's general medical service quality via more competition between the private and public hospitals.
In reality, despite favorable policies, private hospitals still face great difficulties to operate, let alone excel, complained He Wei, director of the private He Eye Hospital in Shenyang.
"It's particularly hard for us in terms of the high threshold of admittance, government research fund applications and tax exemption policy," He said.
The foreign players are more upset about policy uncertainty.
Tan See Leng, chief executive officer of Parkway Pantai Limited, a high-end private healthcare provider in Singapore, said that the colossal population, an aging trend and a booming economy make China a medical market of great potential.
"We're interested in that but will remain careful tapping into the market because we are not sure about the related government policy," he said.
"The coming medical center in Tongzhou will be a government-built platform for quality private and foreign medical investments, featuring transparent and clearly set favorable measures in areas such as taxation and land," said Yue Peng, chief of the district.
According to the blue map, 10 hospitals - two comprehensive and eight specialized ones - will be built to target mainly high-income groups like skilled workers returning from overseas, foreigners living in Beijing and international medical tourists.
"World renowned hospitals are invited to join," he said.
The project is also expected to help drive local economic growth via extended development in related research, industries, and infrastructure construction, he added.
Chen agreed, adding that it would create more jobs and help boost domestic consumption.
"China is still short 12 million medical workers to meet international standards," he noted.
However, Zhuang Yiqiang, deputy general-secretary of the Chinese Hospital Association, suggested that private capital should prepare to enter the market.
"It takes an average of more than 10 years for medical investments to begin making money," he said.
Wang Yu, director of the medical administration department under the Ministry of Health, conceded that issues like entering the market, profit models and market position remain unclear for private practitioners.
So far, China has more than 200 medical institutions involving foreign capital but only one-third are operating well, according to Wang.
Contact the writer at shanjuan@chinadaily.com.cn