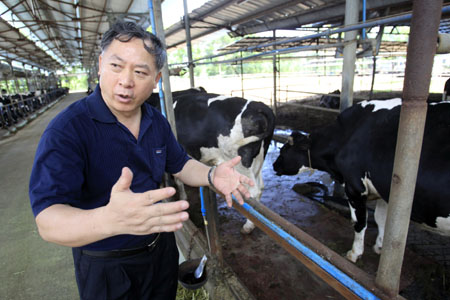 Wang Dingmian, director of the Guangzhou Dairy Industry Association, has been under pressure recently after disclosing another inside story to a newspaper. [Photo/China Daily] 
If there's a leak in China's dairy industry, you can be sure Wang Dingmian knows about it, or even started it.
The director of the Guangzhou Dairy Industry Association has been under pressure recently after disclosing another inside story to a newspaper.
This time it was that a number of cow breeders in the Guangxi Zhuang autonomous region were illegally adding chlorine dioxide into milk to preserve it for a longer period.
Wang's words once again dampened the public's confidence in the safety of dairy products.
The breeder who told him about the illegal activities later withdrew his statement.
"I can understand why the breeder took back his words. It's not the first time I've been called a liar," Wang said, sounding a bit tired and upset.
He was bombarded with phone calls from the media the day the article ran.
"It's stressful to speak the truth when it's very likely I'll be called a liar," said Wang. "However, I won't hold my tongue."
Wang has been disclosing illegal acts in China's dairy industry and taking aim at law-breaking enterprises for 10 years.
He is known as "No 1 whistleblower in China's dairy industry".
"I asked the enterprises at a meeting in 2002 whether they would stop deceiving consumers by passing off powdered milk as raw milk. Nearly 100 enterprises were present at the meeting, and they all kept silent," Wang recalled.
He was angry and called the media.
"I had been waiting for the enterprises to correct their errors. But they remained unrepentant, so I had to force them to take action with the help of public opinion," Wang explained.
In 2005, he exposed a famous Chinese brand's lie that milk purified at high temperature and under high pressure could be fragrant and condensed.
In 2010, he revealed that some people in Fujian province were passing off milk powder containing melamine as protein powder and selling it to feed dealers. His words prompted the local government to carry out a large-scale search for and destruction of the problematic milk powders manufactured in 2008, when the melamine milk scandal broke.
In 2011, he slammed China's new national standard for milk as the "lowest in the world".
In Wang's opinion, the reason why the media named him as the industry's No 1 "whistleblower" is that the media is desperately short of sources from whom to learn the truth of the industry.
"Not only the media but also the consumers want to and have the right to know the truth. Every industry needs a whistleblower," said Wang.
Before entering the dairy industry in 1998, Wang worked as a policeman for 16 years.
He was an expert at catching thieves, and once stayed at a railway station for six months learning how to detect them in a crowd.
He caught more than 300 thieves in six months.
"The 'thieves' I am catching now are committing more serious crimes. They produce fake or substandard foods to steal money, health or even life from millions of consumers of dairy products," Wang said.
In 1998, when he first entered the dairy industry, Wang was a mere layman. But Wang treasured the opportunity to learn from cow breeders and dairy producers during trips to farms and plants.
"These people worked on the front line and helped me accumulate knowledge," said Wang, who chatted with farmers and workers in smelly barns and sweltering warehouses.
"Only by talking with these people could I discover the industry's problems. I can't see the problems sitting in air-conditioned office."
Now, Wang has become an expert who has published more than 100 articles about the dairy industry.
While he has won applause and support from media and the public, Wang has become a thorn in the flesh of some dairy enterprises.
He has received threatening calls and some enterprises have attempted to ruin his reputation.
Wang admits his experience as a policeman helps. But most of all, he manages to stay calm in the face of threats and libel because "a clean hand needs no washing," Wang said.
"Some people in the dairy industry think that consumers won't buy and drink milk if I expose the industry's problems. These people are shortsighted," Wang continued.
"If a person ignores a tumor in his body, the tumor will be in his body forever and harm his health. How can an unhealthy person make others trust that he is healthy and reliable?"
Chen Wenjun, the owner of the Yanhai Dairy Farm in Conghua district of Guangzhou, agrees with Wang.
"I'm not afraid (of Wang) because I'm running the farm in line with rules and regulations and producing fresh and safe milk," Chen explained. "In fact, thanks to Wang's strict supervision, the quality of the milk in Guangzhou is higher than in many other cities in China."
Chen said he is sad that the 57-year-old Wang is going to retire in three years.
"He is one of the few government officials in this industry who can stand in the shoes of cow breeders and consumers rather than those of big enterprises," said Chen.
He is grateful that Wang helped local cow breeders negotiate with dairy producers about the price of raw milk in 2008 and secured their rights by asking the manufacturers to start signing yearly contracts with breeders.
Even after his retirement from government, Wang doesn't plan to retire from his post as the No 1 whistleblower of China's dairy industry.
"My parents, both farmers, are upright and honest. I was brought up to be like them. That's why I'm uncomfortable when I see cheating and injustice and have the impulse to expose it and correct it," Wang said.
"I don't know how much I can do as an individual, but I will persist in doing what I think is right and contribute to the crackdown on illegal acts in the dairy industry."
xujingxi@chinadaily.com.cn