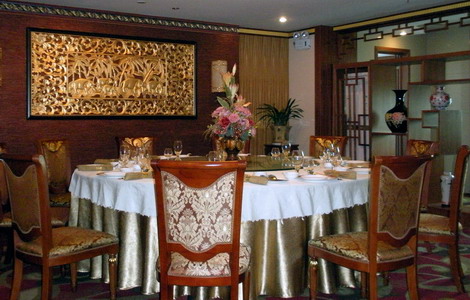 This high-end restaurant in downtown Shanwei, Guangdong province, is one where local tobacco authority officials frequently visited and used public funds to eat and drink. Chen Wenzhu, head of the Shanwei city branch of the tobacco monopoly bureau, was removed from his post and expelled from the Party in October 2011 for corruption. Probes found the bureau's expenditures on entertainment exceeded its budget, but did not give specific numbers. [Photo / Xinhua] 
Society believes regulations could reduce waste of funds by officials at pricey meals
The issue of whether laws can restrain or regulate banquets that are paid for with public money is still a hot topic among experts, two months after the two sessions ended.
During the annual session of the Chinese People's Political Consultative Conference in March, the Jiu San Society, one of eight non-Communist parties in China, proposed a bill to use laws to solve the problem of publicly funded banquets.
Feng Pei'en, vice-president of the society, said in the proposal that government officials should not use public funds to enjoy banquets, so laws to regulate the situation should be made urgently.
"Like corruption, using public funds to eat or drink has become a very serious social problem, but it is rare to see and hear of any official being dismissed for this wrong deed," Feng said.
He gave the example of laws that have been taking effect to reduce drunken driving and said waste caused by banquets at public expense would also be reduced, if appropriate laws were written.
"Previously, people were only fined if they drove after drinking. But now they have to face heavier punishments, such as detention and even jail terms, because the problem was regulated by laws," he said.
According to a survey by People's Daily in February, the amount of public money used for banquets totaled more than 300 billion yuan ($48 billion) in 2005, nearly 10 times the figure in 1989.
Wang Yukai, a professor with the Chinese Academy of Governance, welcomed the proposal of the Jiu San Society and said coping with this problem in legal ways would be a good choice.
"Having banquets with public funds is a serious waste. Those who spend large sums of public money at banquets deserve criminal punishment, because they have harmed society," he told China Daily in April.
There are no specific lists of dishes and their prices at banquets held by government officials and thus the total amount of expenses has not been easy to calculate, he said. "This brings opportunities for some officials to abuse public funds, and it is hard to control the situation with the current administrative regulations."
However, Zhu Lijia, another professor at the Chinese Academy of Governance, said he is pessimistic about using laws to solve the problem.
"More laws cannot solve this issue. Now, there are many regulations or rules to curb the problem, but we have not seen effective results," Zhu said. "It's not the regulations that didn't work. Instead, it's the enforcement that wasn't strictly carried out."
In practice, local governments are considering new ways to restrain banquets at public expense.
An office responsible for banning drinking among officials in Ningling county, Henan province, attracted media attention in April. Although the local government claimed the office had played an active role in punishing those who violated regulations and drank during work, the public doubted its effectiveness.
Liu Binjie, director of the General Administration of Press and Publication, said it was a great failure for the government that current regulations and rules had failed to solve the problem of banquets at public expense.
He suggested in his micro blog on April 8 that public funds should only pay the expenses of banquets related to foreign affairs.
In addition to banquets paid for with public funds, several measures have been enacted to combat government waste, including one passed in 2011 requiring ministries to disclose their expenditures on overseas trips, vehicle purchases and receptions.
caoyin@chinadaily.com.cn