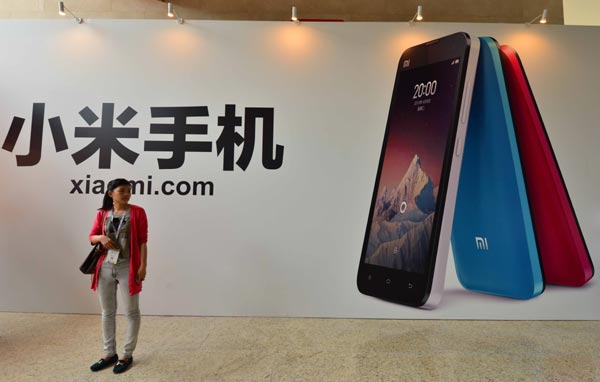 A Xiaomi Corp billboard at an expo in Beijing. The Chinese smartphone maker, now third-largest in the world, sold more than 17 million handsets in the third quarter of this year. [Photo/China Daily]
Rising smartphone star Xiaomi Corp is facing a major setback in India after a local court halted its sales over a patent dispute.
The sudden ban may weigh on Xiaomi's performance in its most important overseas market and its ambitious globalization plans, industry insiders said.
The Delhi High Court told Xiaomi and its local e-commerce partner Flipkart to stop importing and selling devices in India until Feb 5, when the court will hear Swedish telecom equipment maker Ericsson AB's patent-infringement petition, Indian newspaper The Economic Times reported on Thursday.
Ericsson said that it is seeking royalties from Xiaomi after more than three years of what it called "fruitless negotiations" with the Chinese company.
Xiaomi said that its office in India is yet to receive the official court order.
"We do not have more information to share because our legal team is evaluating the ruling," the company's Beijing headquarters said.
James Yan, a senior analyst at industry consultancy IDC, said there is still room for an out-of-court settlement.
"India is the top priority for Xiaomi's overseas strategy. It will try everything to maintain its sales operation in the country," Yan said, adding that the company's Indian shipments could hit "several hundred thousand" units.
Xiaomi kicked off India sales in mid-July, a move that analysts described as a critical first step to explore overseas markets.
Xiaomi is enjoying "early success" in India as its sales soared in recent months, Hugo Barra, the company's vice-president in charge of global business, said in late November.
"Our ambitions (in India) are significant because we want to set up a completely Indian operation. We are building a very significant operating team there handling all aspects-e-commerce, logistics and customer support," he said.
Xiaomi is coming on strong as a major global smartphone vendor thanks to its rocketing sales on the Chinese mainland. But it will have to tap into more emerging overseas markets to overtake Samsung Electronics Co and Apple Inc in total shipments.
Statistics from IDC show Xiaomi lagged both companies in worldwide smartphone shipments as of Sept 30. The company shipped more than 17 million handsets in the third quarter of this year, compared with 6 million a year earlier.
The key factor now is how quickly the company can move beyond its home territories and drive overseas volumes higher.
Yan said that Xiaomi will try to enter more emerging markets including Turkey, Russia and some Middle Eastern countries next year.
The industry is speculating that Xiaomi may unveil its next-generation gadget, the Mi5, during the International Consumer Electronics Show in Las Vegas, Nevada, in January. The move could be a clear sign that the company is attempting to enter the United States market, where Apple dominates.