Social networking platform Momo Inc, backed by e-commerce giant Alibaba, made its trading debut in New York on Thursday, raising $216 million for its US initial public offering.
The location-based application that lets users send text, photos or video to people nearby priced 16 million American depositary shares at $13.50 per share and opened at $14.25 a share on Nasdaq. Shares hit a high of $17.50 in the afternoon and closed at $16.90, a 25.18 percent increase.
"Our efforts in the past years have paid off, and we are very proud of this," said Tang Yan, CEO of Momo. "Many famous technology companies from China have listed on Nasdaq and we're very honored to join them."
Trading under the ticker MOMO, the company's public offering was jointly run by Morgan Stanley, Credit Suisse Securities, JP Morgan Securities and China Renaissance Securities.
It was the first Chinese tech IPO in the US since Alibaba's blockbuster stock sale in September, and will most likely be the last one of 2014. In addition to Alibaba, the year has seen a number of high-profile Chinese debuts, including social media site Weibo and e-commerce retailer JD.com.
Founded in 2011, Beijing-based Momo allows its 60.2 million active users to connect with each other through the application. Users can chat with others through the platform, finding people within their geographical vicinity or through shared-interest groups that are also location-based.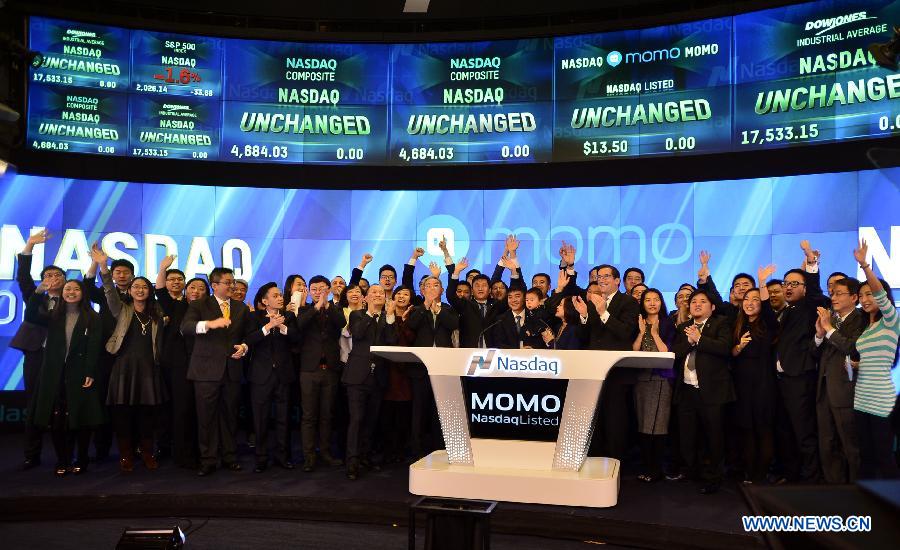 Tang Yan (C, front), founder and chief executive officer of China's mobile social networking platform Momo Inc. attends the ceremony of ringing the opening bell at the NASDAQ in New York, the United States, on Dec 11, 2014. China's mobile social networking platform Momo Inc. listed its shares Thursday on the NASDAQ global select market. The company announced that its initial public offering of 16 million American depositary shares (ADSs) was priced at $13.5 per ADS for a total offering size of $216 million dollars. [Photo/Xinhua]