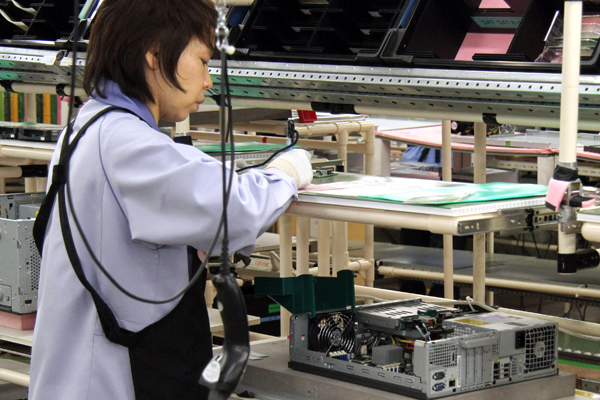 An employee assembles parts for a Fujitsu Ltd computer server at the Fujitsu Isotec Ltd plant in Fukushima Prefecture, Japan. [Photo/Agencies]
Lenovo Group Ltd is in discussions with Japanese tech firm Fujitsu Ltd to merge their personal-computer businesses, as the world's largest PC maker tries to boost margins through scale effect amid declining consumer demand, Japanese media reported.
The Beijing-based firm could either set up a joint venture with Fujitsu or buy a majority stake in the latter's PC unit, according to the Nikkei newspaper. "They are aiming to reach agreement this month," Nikkei said.
Lenovo did not immediately respond to a request for comment. The deal came shortly after the Chinese firm said in July that it would spend $195 million to increase its stake in its PC joint venture with another Japanese firm NEC Corp.
Jacky Zhao, an analyst at International Data Corp, said the move is the latest sign that Lenovo is trying to strengthen its top spot by teaming up with all possible partners as the PC market continues its downward trend.
"Initiating mergers is not only an effective way to survive the cold winter in the PC market. It can also give Lenovo more resources to revive its business when demand begins to pick up," Zhao added.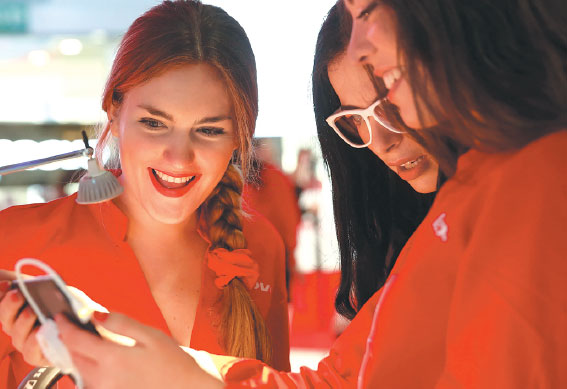 Employees demonstrate a Lenovo TAB2 A8 tablet device in the Lenovo Group Ltd pavilion at the Mobile World Congress in Barcelona, Spain. [Photo/Agencies]
In the second quarter of 2016, worldwide PC shipments declined 4.5 percent year-on-year to 62.4 million units. Lenovo performed better than the average, with a decline of 2.3 percent and a shipments of 13.2 million units, data from IDC shows.
"Fujitsu has a good brand appeal among Japanese consumers. The deal, if it goes through, can effectively boost Lenovo's existing business there," Zhao said, adding that Lenovo had 19.4 percent share of the global PC market in 2015, compared with 2.1 percent for Fujitsu.
When it comes to Japan, Lenovo is the largest PC vendor, accounting for about 25 percent of the market last year, according to tech consultancy Gartner Inc. It also has a R&D center there that leads the design of the ThinkPad brand, which is one of the keys to maintaining profit margins in the high-end niche.
The move also came after Lenovo Chairman Yang Yuanqing said in June that the PC unit would continue to be the company's pillar business, because as productive tools, computers still play a vital role in daily work and life, and the demand won't decline forever.
Financial reports showed that Lenovo derived 66 percent of its 2015 revenue from its PC business. But it also works hard to seek for new growth points, such as smartphones, cloud computing and virtual reality, though efforts to make headway have stalled partly due to mounting competition.