Lenovo Group Ltd saw a 64-percent jump in its net profit in the quarter ended June, beating analysts' estimates, as the Chinese tech giant benefited from the better-than-expected global PC market and a one-off asset sale that helped offset its declining smartphone business.
The Hong Kong-listed company said on Thursday that its net profit hit $173 million in the quarter, outperforming the $130.1-million average analysts estimated, who were polled by Thomson Reuters.
The profit was boosted by a $132 million gain from the sale of a Beijing office property.
Yang Yuanqing, CEO and chairman of the world's largest PC maker, said that the slowing global PC market fared better than the company had expected. Its PC shipments fell 2.3 percent year-on-year during the quarter, compared with the average 4.1 percent decline in the entire industry.

Zhao Xiaolei, an analyst at research firm International Data Corp, said China's enterprise-oriented PC market, especially the government procurement niche, has started to revive and that gave Lenovo a boost.
In August, Lenovo won a bid worth around 285 million yuan ($42.9 million) to supply the National Bureau of Statistics more than 285,000 tablets, according to ccgp.gov.cn, the official website for government purchasing projects.
However, the company posted a pretax loss of $206 million in its mobile unit, as it is struggling to integrate the Motorola handset business, which it bought from Google Inc for $2.8 billion in 2014.
The loss also came as Lenovo is ramping up its efforts, even at the expense of profits, to regain the share of the smartphone market it is losing to rivals such as Huawei Technologies Co Ltd and Oppo Electronics Corp.
The company said it hopes its money-losing mobile division is expected start making profits in the next fiscal year, and it will focus more on the premium sector and step up its marketing efforts.
Xiang Ligang, a telecom expert and CEO of the industry website cctime.com, said Lenovo has made significant progress in reviving its faltering smartphone business in recent months.
In June, the company unveiled Phab2 Pro, the world's first smartphone to host argumented reality applications, and the Moto Z modular series, whose high-powered magnets can allow users to upgrade the handset with additional equipment such as speakers and projectors.
"These efforts demonstrate Lenovo's innovative capabilities. The two phones won't boost revenue too much in the short term because it takes time to educate consumers, but they have big long-term potential," Xiang added.
masi@chinadaily.com.cn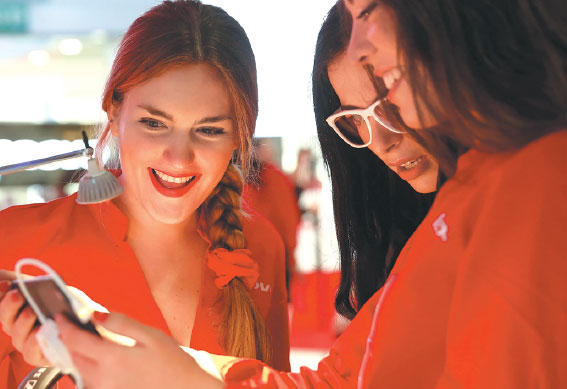 Employees demonstrate a Lenovo TAB2 A8 tablet device in the Lenovo Group Ltd pavilion at the Mobile World Congress in Barcelona, Spain. Bloomberg