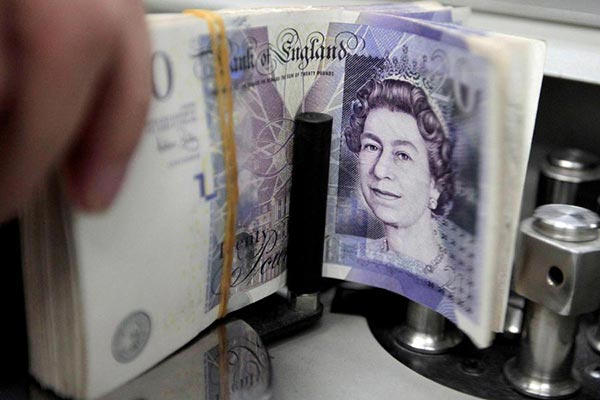 A bank employee counts pound notes at Kasikornbank in Bangkok, Thailand October 12, 2010. [Photo/Agencies]
Two minutes of chaos in Asian trading sparked a plunge in the pound to a 31-year low, with traders saying the slump was exacerbated by computer-initiated sell orders.
The 6.1 percent decline, the biggest since voters chose to leave the European Union, drove sterling as low as $1.1841. With the currency already in freefall amid concern about a so-called hard Brexit, Friday's slide took it to the weakest level since March 1985. At least one electronic trading platform recorded a transaction at $1.1378, said traders, who asked not to be identified.
The extent and speed of the drop add to signs that bouts of extreme volatility are becoming more commonplace in the global currency market as the volume of transactions dwindle and algorithmic traders pick up market share. In January, the South African rand tumbled more than 9 percent in 15 minutes before rebounding, while New Zealand's dollar had its own flash crash last August.
"In a word, frightening," Karl Schamotta, director of foreign-exchange research and strategy at Cambridge Global Payments in Toronto, said. "Confidence in the currency markets has been badly shaken once again, and any trader who rode tonight's roller-coaster will certainly question the quality of liquidity going forward."
The pound pared the drop to trade 1.3 percent weaker at $1.2456 at 6:41 am in London. Traders speculated that the initial decline may have been sparked by human error, or a so-called "fat finger", with algorithms adding to selling pressure at a time of day where liquidity is low. Others pointed to a Financial Times article citing French President Francois Hollande as saying the UK must suffer the consequences of leaving the European Union.
"It would seem that it caught the market wrong-footed and triggered a lot of algorithmic selling," said Hugh Killen, Westpac Banking Corp's head of trading for foreign exchange, fixed income and commodities, in Sydney. "We didn't see any significant demand for sterling off the low. It was more of the point that the selling subsided and the market calmed and it reverted back to a level that was more realistic for the day."
One-week implied volatility for the pound against the dollar jumped to as high as 16.77 percent, the highest since July 14, from 10 percent on Thursday.
Hollande, speaking in Paris at a dinner attended by EU officials, urged the bloc to fight hard on negotiations with Britain. "There has to be a price to pay or else the negotiations won't go well," said Hollande.
"Such comments on their own would not be enough to cause a plunge on this scale, but once a move gets going in thin liquidity it can snowball quickly," said Gareth Berry, a foreign-exchange and rates strategist in Singapore at Macquarie Bank Ltd. While the pound "may recover to the $1.25 area today, all technical support has now been obliterated, so sterling is doomed from here over the months ahead".
Bloomberg