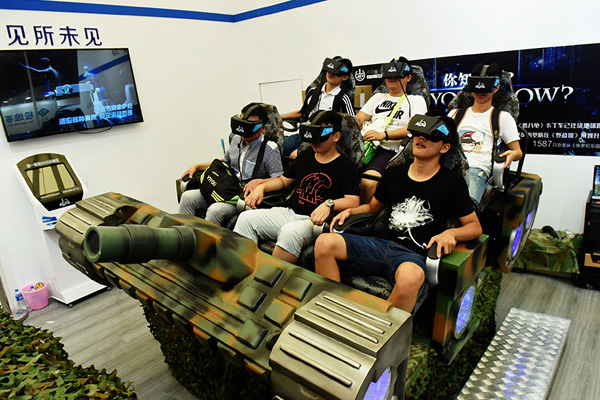 Visitors experience an interactive game with VR glasses during the ChinaJoy 2016 in East China's Shanghai municipality, July 28, 2016. [Photo/Xinhua]
OCT Group, one of China's biggest tourism players, said it plans to build the country's "most influential virtual reality industrial park" in Shenzhen's Gankeng New Town project, as it strives to instill fresh vitality into the traditional cultural and tourism industry.
The 50-billion-yuan ($7.57 billion) project in Guangdong province is part of Shenzhen-based OCT's plan to develop 100 towns showcasing different cultural characteristics across the country. The conglomerate aims to turn Gankeng into a tourism resort featuring the province's traditional Hakka culture and boasting modern technology.
VR film and television production centers and technology incubation centers will be set up in the 12-square-kilometer project, according to the company. It will also produce China's first Hakka-themed VR cartoon movie.
Gankeng New Town is expected to attract 5 million tourists annually after construction is completed in five to eight years, providing a huge positive impact on the local economy.
"Technology has brought significant changes to China's cultural industry," said Hu Meilin, general manager of Shenzhen OCT Cultural Holding Co Ltd, responsible for development of the project.
"We should adopt a 'culture + technology' model when we develop a modern cultural industry so that it can achieve greater growth," Hu said.
He added that integration of technology and culture in Gankeng New Town would be displayed with VR and AR (augmented reality) products, which will be provided by Shenzhen OCT Vision Inc, a subsidiary of OCT Group.
According to market research firm iiMedia Research, China's VR market is expected to reach 5.66 billion yuan in sales this year and expand further to 55.63 billion yuan by 2020. Electronic games are projected to grab 33 percent of the market by 2025, while video is expected to take up 9 percent.
OCT Group focuses on tourism and related cultural industry operations, real estate and hotel developments and operations and the manufacture of electronic and set package products.
It is known for its brands such as Konka, Splendid China, Window of the World and Happy Valley Chain.
Guo Yun, researcher at the Chinese Academy of Social Sciences, said Gankeng New Town and Happy Valley Chain provided two good platforms for promoting the company's VR products, as they can attract a large number of visitors.