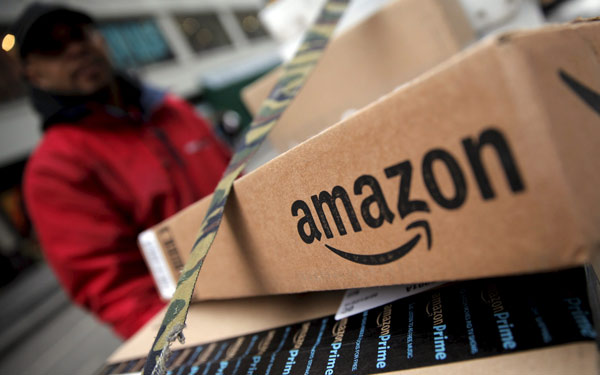 Amazon boxes are seen stacked for delivery in the Manhattan borough of New York City, January 29, 2016. [Photo/Agencies]
US e-commerce multinational Amazon.com Inc has overcome Chinese homegrown platforms in supporting domestic sellers to reach overseas customers, a new survey of more than 900 local e-commerce sellers has found.
The survey, conducted by US-based B2B online payments company Payoneer, found that 62 percent of respondents sold goods on Amazon, compared to 45 percent on Wish and 40 percent on the Alibaba-backed Aliexpress.
"The results are based on the responses of a total of 900 e-commerce sellers throughout the Chinese mainland and Hong Kong through an online questionnaire commissioned by Payoneer during January and March 2016," Payoneer said.
According to the company, the stigma of "made in China" has quickly changed to "branded in China," and global online marketplaces are offering more and more opportunities for China-based sellers.
Electronics and accessories are the leading products sold on cross border marketplaces, as cited by 45 percent of respondents, followed by clothing accessories and home goods.
However, nearly half of the respondents cited increasing numbers of Chinese sellers and local competition as the biggest challenges to selling online.
Data from China's National Bureau of Statistics shows that China is the world's largest e-commerce market. Chinese retail websites sold $589.61 billion worth of goods in 2015, up 33.3 percent from the previous year.
Compared to 2014, online sales of physical products in China grew 31.6 percent to $493.04 billion last year, while web sales of virtual products increased 42.4 percent to $96.55 billion.