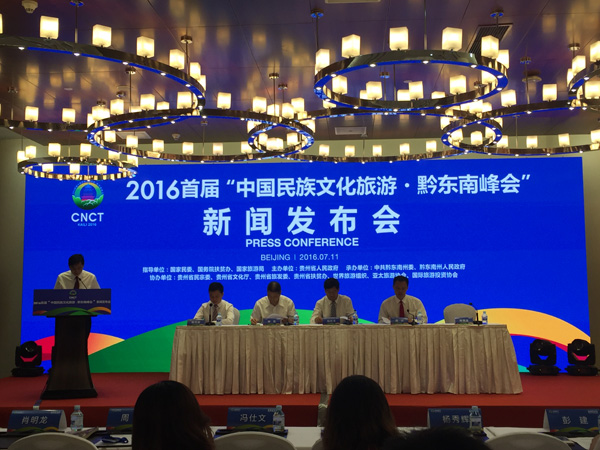 Qiandongnan Miao and Dong autonomous prefecture held a press conference in Beijing on July 11 to announce the coming China ethnic culture tourism conference, which will take place on July 24. [Photo provided to chinadaily.com.cn]
The China ethnic culture tourism conference will be held in Qiandongnan Miao and Dong autonomous prefecture on July 24, discussing methods to develop such tourism and promote the prefecture's extensive ethnic tourism resources.
Feng Shiwen, head of the Qiandongnan government, said at a recent press conference in Beijing that the event was held in the prefecture in Southwest China's Guizhou province due to its rich ethnic culture and ecological environment.
The area boasts outstanding examples of ethnic buildings, clothes, songs and dances, as well as festivals. It is also home to the Grand Song of the Dong ethnic group, which the Dong call Ga Lao, meaning "Grand Tradition."
Ga Lao is performed without the aid of musical instruments and would be called a cappella in the West. Ga Lao was inscribed in 2009 on UNESCO's Representative List of the Intangible Cultural Heritage of Humanity.
The prefecture has a forest coverage of 65 percent and is among the country's 28 major forest areas. It has 27 national and provincial-level natural protection areas as well as a national geological park.
Qiandongnan, located in southeastern Guizhou, possesses a natural foundation that will allow it to develop into a notable ethnic culture tourist destination, Feng said.
The conference comprised six themed activities. One forum featured presentations on how the prefecture tackled poverty by developing ethnic culture tourism and discussed how such tourism could further address the problem of poverty.
A development forum on ethnic culture tourism promoted projects related to Qiandongnan's ethnic tourism resources and discussed ways in which businesses can aid in the protection and development of such resources.
Many internationally renowned organizations and experts on ethnic culture tourism will come to the conference to learn about Guizhou, and especially Qiandongnan. The conference will also help promote the prefecture's ethnic cultural tourism industry, develop the province and improve the livelihoods of local people, the organizers said.
The prefecture has taken a range of measures in recent years to promote its tourism sector. It has further promoted and developed the cultures of the Miao and Dong peoples to boost tourism.
Some local villages including the One-Thousand-Household Miao Village of Xijiang, known as the biggest Miao village in the world, have become more popular; ethnic festivals such as the Miao Sisters Festival in Taijiang county have also helped to boost Guizhou's tourism industry.
The prefecture has also combined tourism with other industries including mountain agriculture, sports, ethnic medicine and e-commerce.