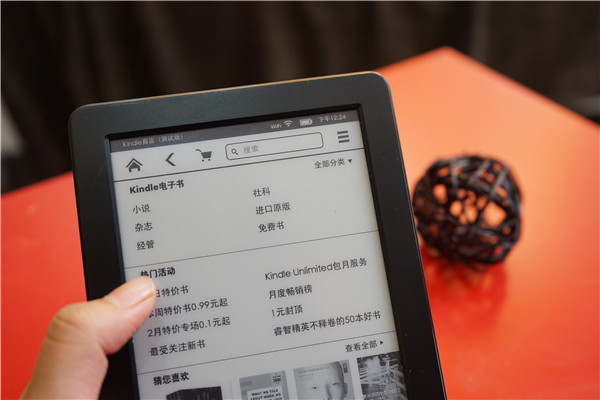 A Kindle tablet that provides access to Chinese language e-books. LI SANXIAN/CHINA DAILY
After witnessing growing interest in paid content in China, Amazon Kindle officially unveiled a new subscription service on Tuesday that offers all-you-can-read digital books for 12 yuan ($1.84) per month.
The service called Kindle Unlimited gives Chinese subscribers access to more than 44,000 e-books. Subscribers can read the e-books on any Kindle device or any device, including smartphones and tablet computers, with Amazon's Kindle app installed.
The service is aimed to provide Chinese customers a more flexible way to read and to foster China's nascent e-book market, said Gu Fan, the head of Kindle content product management at Amazon China.
Amazon launched its Kindle e-book store in China in December 2012. It saw the number of active paid readers per month shoot up about 37 times by the end of 2015.
The Kindle Unlimited service was launched when China saw a drop in the number of books being read by its people.
Zhu Ning, an economist, who recently published a book named The Guaranteed Bubble, said the number of books read by Chinese people is "embarrassingly low".
However, for the sustainable development of the subscription service, Kindle needs to get more publishers and authors to participate.
Zou Jihua, director of digital media division of China South Booky Culture Media Co Ltd, a Tianjin-based publisher, saw partnering with Kindle more of a way of marketing books rather than directly making big money by selling e-books.
"As long as the books gets well known in China, you can make money in different ways, such as making movies or TV dramas," he said.
WeChat to offer paid service
WeChat, China's leading mobile messaging application, says it is working on a paid subscription service, a further push to commercialize its platform with 650 million users.
The service, which is under development, would allow writers of WeChat's public accounts to charge readers for certain content.
It would allow them to show a small part of the content and prevent readers from getting full access to the articles without paying.
WeChat, which is owned by the Shenzhen-based Internet giant Tencent Holdings Ltd, wasn't planning to disclose the new service before it was ready. It was accidently found out by users while being tested online.
In an e-mail to China Daily on Tuesday, WeChat confirmed it is working on the new feature but didn't say when the service will be officially launched. It said the service is intended to "support and encourage creative work" on WeChat.
Public account writers don't necessarily make money when they publish their articles or other intellectual work on WeChat. Some of them are allowed to get small cash rewards directly from readers if they feel satisfied about what they read.
Analysts said the move could help WeChat further monetize its huge online traffic.