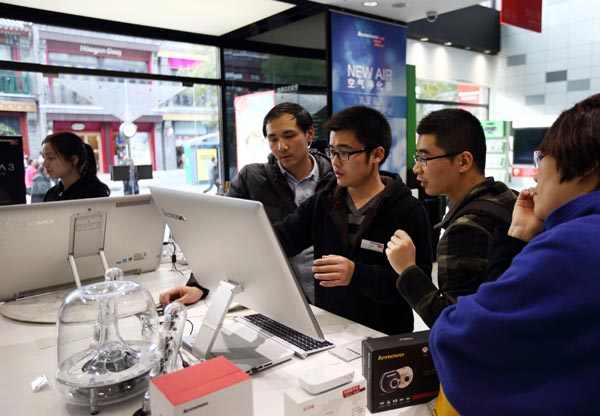 Customers try out a Lenovo Group Ltd computer at the company's flagship store in Beijing. [Photo/Agencies]
Lenovo Group Ltd's removal of pre-installed software that made its devices vulnerable to cybertheft was not enough to head off lawsuits from angry customers and ridicule from its largest competitor.
Although Lenovo announced about a week ago that it would pull the controversial third-party advertising program, called Superfish, from its laptops, the world's largest personal computer maker may still need to explain how it fumbled the thorny issue of information security.
The Beijing-based PC giant is facing at least one class-action lawsuit in the United States because of Superfish, multiple sources have reported.
According to legal website Law360, the suit was filed with a US federal court in California on Feb 19. The plaintiffs accuse Lenovo of pre-installing "spy-ware" that allows remote monitoring of Internet activity.
The lawsuit was filed after Lenovo said that it would stop pre-loading Superfish on its products and offered uninstall services for devices that had already been sold.
As of Tuesday, Lenovo had not commented on the lawsuit.
The Superfish scandal gave Hewlett-Packard Co, the second-largest PC vendor, ammunition to criticize Lenovo.
HP's official Twitter account bore a picture showing a piece of Salmon sashimi on top of a bowl of rice and a pair of chopsticks. The caption read: "The only thing you should have to think of when someone says Superfish."
Peter Hortensius, chief technology officer of Lenovo, apologized for the Superfish scandal.
"Now, I want to start the process of keeping you up to date on how we are working to fix the problem and restore your faith in Lenovo," Hortensius wrote in an official statement.
Superfish, developed by a PaloAlto, California-based visual search company, increases bandwidth and memory usage that cause computers lowdowns.