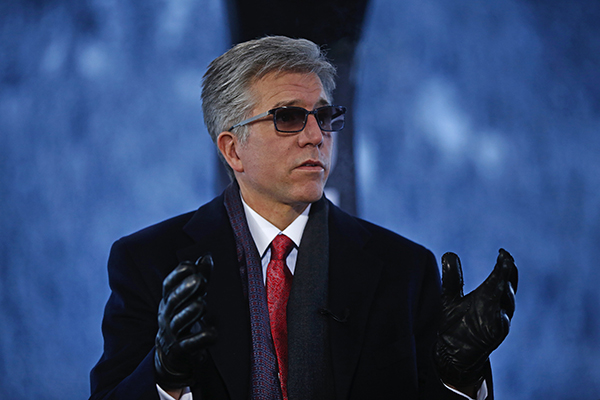 Bill McDermott, chief executive officer of SAP SE, at the World Economic Forum in Davos, Switzerland, on Jan 22. [Photo/Agencies]
Software giant will continue to flourish in China with local support, says its chief
Bill McDermott, chief executive of the world's biggest business application company SAP SE, is surprisingly philosophical about an accident that claimed the sight in one eye.
"Vision is not what you see, it is also what you feel and how you make other people feel," the 54-year-old told China Daily in an exclusive interview that covered a wide range of topics from the China slowdown to the next NBA champions.
"I have great confidence and resilience that comes from being knocked down and getting back up again," said McDermott wearing a pair of tinted glasses.
The accident happened while he was vacationing at his brother's home. He stumbled on the unfamiliar stairs in the dark of night and fell heavily.
His fighting spirit saw him pull through, the same spirit that saw a boy from humble beginnings rise to lead a multinational conglomerate that earned more than $22.5 billion in revenue last year.
He was imbued at an early age with the work ethic. Growing up in Long Island, New York, McDermott opened a delicatessen when he was a teenager. The restaurant was so successful that he was able to use the profits to cover his college tuition. After working for a number of top-tier companies such as Xerox Corp and Gartner Inc, he became the first American CEO of the Germany-based SAP in 2014.
SAP's China business, including the newly introduced cloud business, saw a strong jump in growth that beat estimates and the economic slowdown. The following are edited excerpts.
You had your own startup business before you hit 20. Any suggestions to young Chinese entrepreneurs who want to emulate you?
You have to start with a dream. No country knows that better than China. You have to have a dream to have a dream come true. Young people need to spend more time thinking about that instead of constantly being pushed along into a life that somebody else chose for them.
They should think a little bit more independently about what really turns them on and makes them happy. And think big. That would be my advice.
China registered 6.9 percent GDP growth for 2015, the lowest in more than two decades. Will it affect SAP's business?
Every time I hear concerns about China slowing down, China always surprises everybody on the upside, and I think it will happen again.
If there is slowdown in China, you'd never know it by driving on the streets of Beijing. Even if China does slow down a little bit, it will be natural for a large economy to grow slower on a higher base.
So I don't think we are concerned about it, and from what I can tell, the large successful companies that operate globally aren't concerned about it as much as the headlines would indicate.
How would you describe the company's China operations last year?
It was the biggest year since SAP came to China. I think SAP will continue to flourish in China. We have really good relations with the State-owned enterprises and we've only scratched the surface of what's possible-not only the SOEs but also with the subsidiaries.
We have a wonderful product for small and mid-sized businesses called SAP Anywhere, which we innovated in China for China and the rest of the world. I think it is a fantastic statement for China.
So I think we could do extremely well in SMEs. This will be a blockbuster success for SAP this year in China.
China is putting more focus on information security issues on overseas products. Will this hinder your business in the country?
We have spent less than four-and-a-half decades inventing, reinventing and securing what we like to believe is the most capable and secure business software on the planet. Therefore, I don't have security concerns. On the contrary, I think we have learned so much about security whether it is serving special operations in the military, the government or very significant large enterprises and also managing the data in the way that the customer wants the data to be managed.
How would you describe SAP's relationship with the Chinese government?
It's great. One of the things I deeply admire about China is not just the attitude of people but the government. The government is extremely thoughtful, reflective and strategic and has long-term thinking in the planning process.
I was very impressed with President Xi Jinping's notions on the Internet Plus. It captivated everything in a digital framework. It is a role model for the world.
Give us some examples of how SAP is changing the way traditional companies manage their businesses?
The interesting thing about SAP is we go to market in 25 distinctively different industries.
When you look at our results, across all industries, we were extremely strong. That is one of our great advantages, we don't have to be in one industry or the other.
When you are in retail, you got to rethink the value chain of retail, you got to go for e-commerce strategy in addition to your in-store strategy.
If you are an inventor and you are building a great product, you're going to have to think about how you place that product directly to consumer wholesale and retail. You are going to need a whole system to do that.
SAP's products are used in many industries from banking to machinery. Which sector will be the strongest revenue booster in 2016?
It is hard to say. When I think about industries, it's like picking a favorite child, you love them all. Even the oil and gas industry-with low oil prices-turned out to be a very attractive industry for SAP.
Firms have to get more efficient and do a lot more with less to maintain a decent margin. They are going to have to let the systems do the work that people used to do and let people do things that generate more value. We've seen numerous cases of this.
I think SAP is well-positioned in a difficult situation because you have to bring efficiency to the equation and digitize the process.
In industries that are doing well, people have to step out of their comfort zone to grow. They are going to double down on SAP because we can help them to get more money. We can play in both cases.
Did the accident change you as a person?
What's interesting in that sense is I have, in my own way, benefited. Because vision is not what you see, it is also what you feel and how you make other people feel. From that perspective, I think I gained a lot of wisdom. By being in that place, I think I have an even higher appreciation for what's possible. I think I have a purpose that's even higher. If you thought anything about Bill McDermott, you probably thought he was a good competitor.
Now you see a guy who got off the mat and not only lived to tell the story but got back in the game and, hopefully helped people see in themselves that they can come back from adversity. They can get knocked down and get back up again, and they can appreciate everyday like the present it is.
We know you are a fan of basketball. Which team do you root for?
Because my son loves the Lakers, so I have to say it's Lakers. The fact is I enjoyed basketball since I was a kid because my grandfather was a basketball player. We like to play even more than we like to watch. The Knicks, the Celtics and the Lakers are my favorite teams and I have to throw in the Pistons because it was one of the teams my grandfather played his greatest years for.
Care to predict who will be this year's NBA champions?
I root for the Warriors because I am on the Under Armour board, and Stephen Curry is an Under Amour man. So I think they will win the championship again.
How do you spend your free time?
I love to spend quality time with my family. I don't think a businessman is a complete person. And I love to be with my sons fishing. I love the ocean, it brings tremendous peace to a person.
Besides, I am always connected. Some people ask me: "Can you disconnect?" No, I don't want to disconnect. Because by staying connected, the work never piles up, and I can help the company move faster.
Any book you want to read?
I want to read a book I am writing right now, which is the sequel to Winners Dream: A Journey from Corner Store to Corner Office. A lot of people got me very inspired after the injury because I think they gained something from my story.
I feel like there are a lot of people out there, especially young people, who need a dream in the first place or think they are incompetent. I want to help them focus on working with the purpose and belief that they can make a difference in the world.
CV
Age: 54
Place of birth: Queens, New York
Education: Dowling College, Business Management
Northwestern University, MBA
Career in SAP:
2002: Joined SAP as American CEO
2008-10: Member of the Executive Board
2010-14: Co-CEO of SAP
2014: CEO of SAP
Family: Married with two children