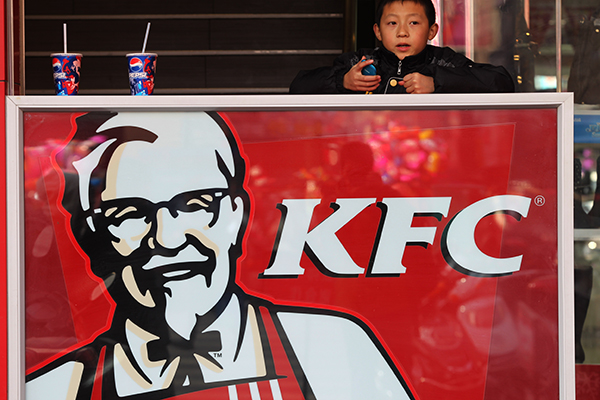 A boy plays at a KFC restaurant in Nantong, Jiangsu province. Yum Brands Inc, owner of KFC and Pizza Hut chains, gets more than half of its revenue from China. [Photo/China Daily]
Yum Brands Inc, which is preparing to spin off its Chinese operations this year, reported fourth-quarter earnings that topped estimates, helped by sales increases at its Taco Bell and KFC chains.
Excluding some items, profit was 68 cents a share in the period, the Louisville, Kentucky-based company said in a statement on Wednesday. Analysts had projected 66 cents, the average of estimates compiled by Bloomberg. Same-store sales gained 4 percent at Taco Bell and 3 percent at KFC.
The results bring some momentum to a fast-food company that will soon be relying more heavily on domestic sales. Yum said in October it would spin off its China business, in part to focus on reviving growth of its US locations. Still, total revenue was lower than projected, hurt by slow growth at its Pizza Hut chain.
The stock, which rose 0.3 percent last year, declined 1.4 percent to $71.40 in late trading.
Taco Bell, which is concentrated in the United States, has had success recently with its mobile-phone application, which allows customers to pay and order ahead.
The chain also is trying out delivery service and introducing new fare, including Fritos tacos, to the US this year.
Yum's Pizza Hut division, meanwhile, is trying to appeal to value-conscious diners with its $5 menu. Its same-store sales inched up just 1 percent last quarter, missing the 1.5 percent gain that analysts had estimated.
Overall revenue fell about 1 percent to $3.95 billion, compared with the average analyst prediction of $4.03 billion.
The company reiterated its guidance for 10 percent operating profit growth this year.
The company has decided to separate its China unit from the rest of its operations. The spinoff will make the Chinese business a franchisee of Yum in the country.
Yum gets more than 50 percent of its revenue from China.
The company also said on Wednesday that Corporate Controller David Russell will serve as interim chief financial officer until a permanent replacement is named. Yum previously announced that Patrick Grismer is stepping down as CFO on Feb 19.