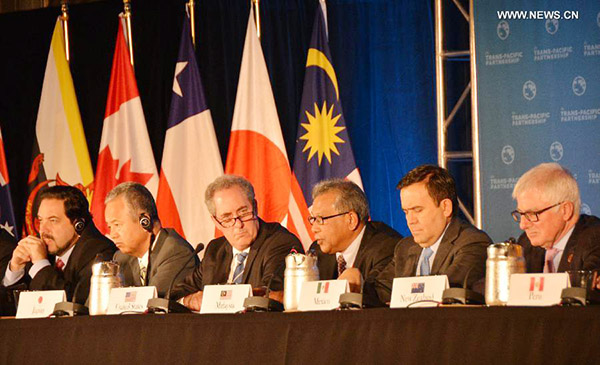 Trade ministers of the United States and 11 other Pacific Rim countries attend a press conference after negotiating the Trans-Pacific Partnership (TPP) trade agreement in Atlanta, the United States, on Oct 5, 2015. [Photo/Xinhua]
The Ministry of Commerce plans to step up the pace of its free trade arrangements with partner countries that offer what it called a high degree of transparency, openness and inclusiveness to the world economy.
Noting the signing of the Trans-Pacific Partnership on Thursday, which does not include China, a ministry statement said: "China is studying it, and evaluation work is under way."
Twelve nations including the United States and Japan signed the TPP in New Zealand on Thursday.
The deal, agreed in October after five years of talks, is aimed at promoting trade and investment among countries which hold 40 percent of the world economy.
Zhang Jianping, director of the International Economic Cooperation Institute at the National Development and Reform Commission, said the TPP is still in its early stage, and will now go through a two-year ratification period, in which "at least six countries, including Canada, Australia and Japan, must approve the final text, for a deal to be implemented via legislative procedures".
Zhang said because the TPP members are at different stages of economic development, all the major economies would need to accept the deal, which will set common standards on issues ranging from labor rights to intellectual property protection.
China hopes to complete negotiations on the Regional Comprehensive Economic Partnership by the end of this year, which would link the Association of Southeast Asian Nations with China, Australia, India, Japan, New Zealand and South Korea, accounting for one-third of the global gross domestic product.