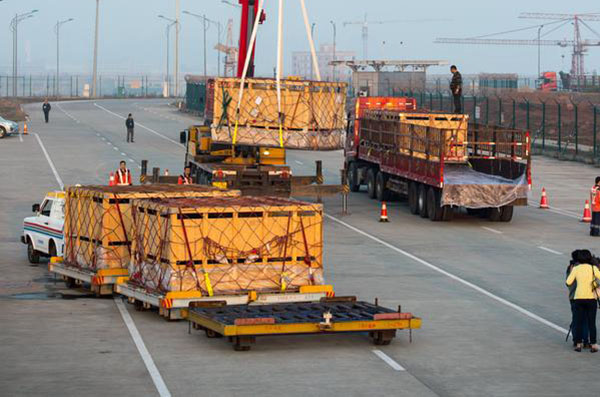 Cargos carrying beef cattles imported from Australia arrive at the Chongqing Jiangbei International Airport in Southwest China's Chongqing municipality, Oct 21, 2015. [Photo/Xinhua]
BEIJING - The Chinese government will prioritize its network of free trade areas (FTAs), a statement after the 18th meeting of the central leading group for comprehensively deepening reform said Monday.
China will step up the implementation of its FTA strategy, while balancing its efforts of opening up to the outside world and maintaining national security, the statement said.
The country will build a high-standard FTA network that focuses on neighboring countries, covers countries along China's Belt and Road Initiative and exerts influence on the whole world, the statement said.
The Belt and Road Initiative refers to the Silk Road Economic Belt and the 21st Century Maritime Silk Road, which were proposed by Chinese President Xi Jinping in 2013 with the aim of reviving the ancient trade routes. The initiative passes through more than 60 countries and regions with a total population of 4.4 billion.
At present, China has signed 14 FTAs involving 22 countries and regions. It is also negotiating the construction of several new FTAs, including a China-Japan-ROK FTA and one with Sri Lanka, as well as the Regional Comprehensive Economic Partnership (RCEP), a free trade pact involving 16 countries.
Stepping up FTA construction is in line with the global trend of booming FTA development and is crucial for making the Chinese economy more open, Tu Xinquan, professor at the University of International Business and Economics, said.
"China will make continuous efforts in negotiations on trade, investment and rule-making, allowing the opening up to promote both its development and reforms," Tu said.
As the country expands the FTA network, priorities will be set on making both goods and service trade more open, relaxing investment access rules, promoting trade facilitation, pushing forward rule-making negotiations and enhancing economic and technological cooperation, the statement said.
A guideline for accelerating China's FTA construction was approved at the meeting.
Yu Bin, researcher with the Development Research Center of the State Council, said China's opening up will steer away from the emphasis on manufacturing sector to the service sector in the next five years.
The country has already started experiments in this respect. At present, China is exploring the opening up of its service sector in domestic free trade zones in Shanghai, Tianjin, Guangdong and Fujian.
In the past, trade rules were made mainly by developed countries. Emerging economies including China face stark challenges in participating in the rule-making process.
Mei Xinyu, a researcher with the Ministry of Commerce, said China is shifting from "connecting to international practices" to "pushing ahead the evolution of rules" to realize equality and mutual benefits in global trade.
Chinese President Xi Jinping said last December that building FTAs offers China an important platform to participate in making international trade rules.
"We cannot stay a bystander or follower, but a participant or leader in the process," Xi said.
By expanding China's FTA network, the country will raise its international competitiveness, make itself heard in rule-making and safeguard its interests, Xi said.
However, China's efforts to expand FTAs and gain greater say in rule-making are not targeted at any other free trade areas outside China, such as the Trans-Pacific Partnership (TPP).
The full TPP text was released last Thursday, one month after 12 Pacific rim countries inked the deal on the largest free trade area in the world.
Some critics are playing up the hypothesis that China is "attempting" to counter the effect of the TPP deal with the expansion of its FTA network.
But the real case is that, as Chinese Commerce Minister Gao Hucheng put it last month, China is open to any trade mechanism as long as it follows the rules of the World Trade Organization and is advantageous to the economic integration of the Asia-Pacific region.
"China hopes the TPP pact and other free trade arrangements in the region can complement each other and contribute to Asia-Pacific trade, investment and economic growth," Gao said.
China is willing to cooperate with the US in formulating global trade regulations to push forward regional and world economic development and improve people's well-being, he said.
Tong Jiadong, vice president of Tianjin-based Nankai University, said that China's change from just a trade participant to a rule maker will also expand areas of cooperation with other countries.