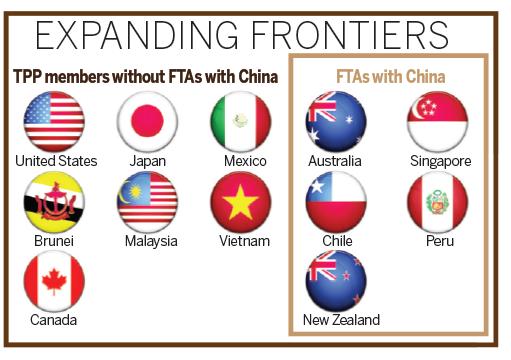 China will step up efforts to forge more bilateral and multilateral free trade agreements in the Asia-Pacific region to reduce the impact of the Trans-Pacific Partnership pact inked on Monday, experts said on Wednesday.
The TPP will include provisions on eliminating and reducing tariffs and non-tariff barriers on industrial goods among member countries, as well as removing or reducing tariffs and other restrictive policies on agricultural goods.
The United States' government considers the TPP as a practical measure that could expand the country's influence in the fast-growing Asia-Pacific region.
Apart from the US, the TPP talks involve Australia, Brunei, Canada, Chile, Japan, Malaysia, Mexico, New Zealand, Peru, Singapore, and Vietnam.
Zhang Yansheng, secretary-general of the academic committee of the National Development and Reform Commission, said five TPP nations-Australia, New Zealand, Singapore, Chile and Peru-have already inked FTA deals with China. These FTAs can effectively lower the possible impact on China's foreign trade and manufacturing activities.
Under the China-Australia Free Trade Agreement signed in June, tariffs on more than 85 percent of goods traded between the two countries will be cut to zero immediately. About 97 percent of Australian exports to China will be tariff free within four years.
Official figures show trade volumes between China and Australia jumped from $88.1 billion in 2010 to $136.9 billion in 2014. Australia had a $9.4 billion trade surplus with China last year.
China has set goals to complete negotiations on the Regional Comprehensive Economic Partnership by the end of this year, which would link the 10 ASEAN member nations with China, Australia, India, Japan, New Zealand and South Korea, accounting for one-third of the world's gross domestic product.
"It is clear that countries that signed the TPP deal such as Australia, New Zealand and Chile are acutely aware that the future demand for agricultural exports including beef, wheat, fruit, wine and dairy products will come from China and India, and not from the US, Japan or Singapore," said Zhang.
The Chinese government considers FTAs as a new platform to further open up to the world and speed up domestic reforms, an effective approach to integrate into the global economy and strengthen cooperation with other economies, as well as an important supplement to the multilateral trading system.
Liu Chenyang, a researcher at the APEC Study Center of the Tianjin-based Nankai University, said: "China's huge market demand and large population will be key in attracting countries to sign bilateral or multilateral FTAs. It won't be a big deal if some countries in the Pacific Rim sign other regional trade treaties. It is a free market, after all."
The China-ASEAN Free Trade Agreement was signed in 2002 and negotiations to upgrade this agreement are expected by the end of this year, according to the Ministry of Commerce.
"To diversify its trade channels, China is willing to jointly promote the building of the 21st Century Maritime Silk Road, strengthen interconnectivity cooperation and push for closer integration in the Asia-Pacific region," said Liu.