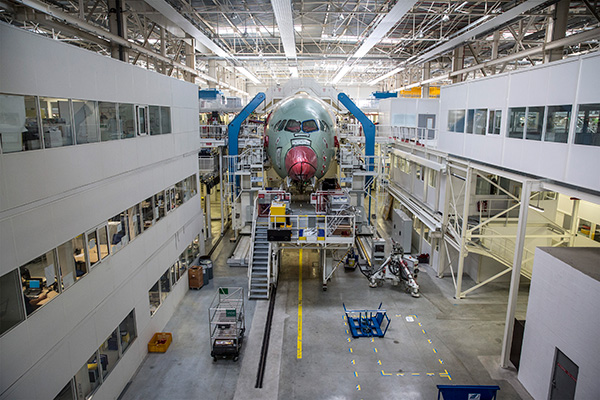 Technicians work inside the front landing gear doors of an Airbus A350 XWB passenger aircraft on the final assembly line at the Airbus Group NV factory in Toulouse, France, on Tuesday. [Photo/Agencies] 
Finnair Oyj plans to use the latest generation of Airbus 350 XWB aircraft on its routes to China from next month, a top company official said.
The carrier, which received its first Airbus 350 XWB on Wednesday, will use the aircraft on its Helsinki-Shanghai route from Nov 21, after flying on some short-haul routes inside Europe, according to Pekka Vauramo, CEO of Finnair.
Shanghai has a strong demand for cargo, said Vauramo, and that is why the carrier chose Shanghai to be the first long-haul destination for the A350 XWB.
Beijing is also on Finnair's Airbus 350 XWB list, although the exact time frame has not been finalized, Vauramo said.
"We expect the market in China to be the strongest than ever before in the summer season," he said. "We also look forward to sustained growth in our key market, which is the Europe-Asia market."
Meanwhile, the carrier said it was adding Guangzhou as its sixth Chinese destination from 2016 with four weekly flights in the summer season between May 6 and Oct 29.
"We intend to double our Asian traffic by 2020 from the 2010 baseline and the new destination is important for this target," Vauramo said.
The carrier will use A330 aircraft on the new route, as it will only receive four of its 19 A350 XWB orders this year.
The balance orders are set to be completed in the next eight years, said Fabrice Bregier, president and CEO of Airbus SAS.
Finnair's A350 XWB has 297 seats with three cabins, including 46 in business class, 43 in economy comfort and 208 in economy class.
"A350 is the perfect aircraft to spearhead Finnair's Asian expansion," said Bregier, as it is the first carrier operating the nonstop route from the Europe to China since 1988.