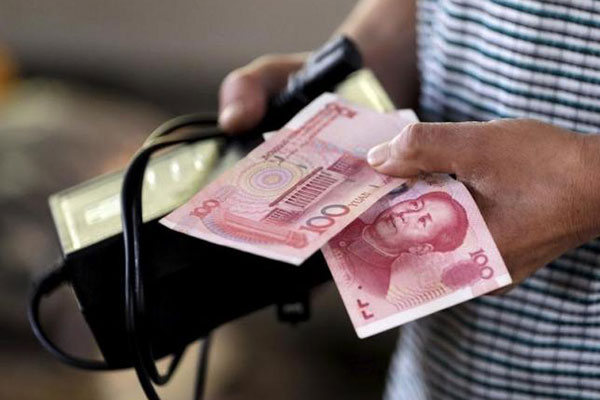 A customer holds a 100 Yuan note at a market in Beijing, August 12, 2015.[Photo/Agencies]
China's yuan became the fourth most-used world payment currency in August, overtaking the Japanese Yen, global transaction services organization SWIFT said on Tuesday.
The yuan has surpassed seven currencies in the past three years as a payment currency and is now only after the US dollar, the euro and the sterling.
Overall, global yuan payments increased in value by 9.13 percent in August, while payments across all currencies decreased by 8.3 percent, according to the organization.
The yuan reached a record high market share of 2.79 percent in global payments for the month, compared to 1.39 percent in January 2014.
More than 100 countries used the yuan for payments in August, of which over 90 percent of flows were concentrated in 10 countries. Singapore processed 24.4 percent followed by the United Kingdom with 21.6 percent.
More than 1,700 financial institutions made worldwide payments in the yuan, up 14 percent from a year earlier. About 600 of these institutions used the yuan for payments without a leg with China or Hong Kong.
In the trade finance sector, the yuan has a 9.1 percent share in the global issuance of letters of credit by value, strengthening its position as the second most used currency for this purpose.
Foreign exchange transactions in the yuan by value also increased by 20 percent in August from a month earlier, probably due to the devaluation of the yuan by the People's Bank of China, SWIFT said.
More than 50 percent of the yuan FX trading outside China and Hong Kong is done with the U.K., followed by the US, Singapore and France.