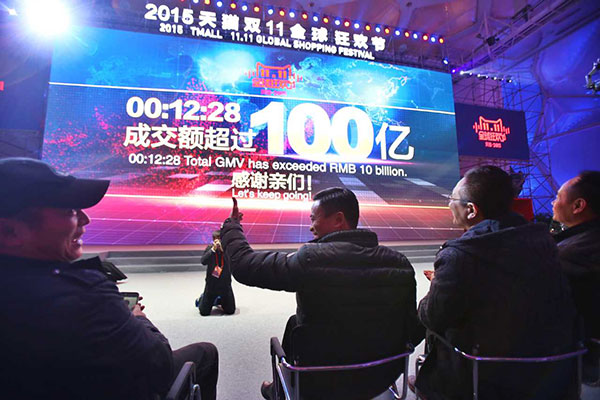 The big screen shows live data of gross merchandise volume of the 2015 Tmall Global Shopping Festival on Nov 11, 2015. [Photo provided to chinadaily.com.cn]
Alibaba Group saw its gross merchandize volume breaking last year's record within half a day after the 24-hour online shopping festival kicked off on Nov 11.
The e-commerce giant announced earlier Wednesday its unaudited figure, saying the gross merchandize volume on its Tmall platform reached 57.1 billion yuan ($8.98 billion) at 11:50 am and about 71.61 percent out of the volume generated from mobile channels, such as smartphones and tablets.
Statistics from Alibaba showed that online shoppers from China's developed eastern and southern cities made major contribution to the boost in Nov 11 sales. Guangdong province, Zhejiang province, Jiangsu province, Shanghai and Beijing were the top-buying regions in China before noon.
Jack Ma, executive chairman of Alibaba, said in an interview on Wednesday, that there is still huge potential in China's domestic demand and there is no better way to tap this potential in a shopping carnival like the Nov 11 Tmall shopping festival.
"We want to hold Nov 11 online shopping festival for 100 years. There is still 93 shopping event to go," he said.
Ma said the Nov 11 shopping festival is gradually becoming a global event. Statistics from Alibaba's Tmall platform showed that this year's 24-hour sales will cover 200 countries and regions and more than 5,000 overseas brands have participated in Alibaba's shopping festival.
Logistics remains Jack Ma's number one concern for this year's carnival, said the tycoon in an interview with the CCTV. "The Double 11 puts China's infrastructure as well as Internet technology into a big test."
He added that cold weather would encourage more buying as people prepare for the winter, but it would also make delivery more challenging.
The company saw its gross merchandise volume reach 10 billion yuan ($1.57 billion) within 12 minutes and 28 seconds after the festival started on Nov 11.
Last year, it took 38 minutes and 28 seconds to reach that mark.
Ant Financial, Alibaba's financial arm and the operator of China's largest online payments provider, Alipay, reported 85,900 deals per second at the peak period on the spree, 2.23 times of the amount of last year.
Globalization is the main feature of this year's Singles' Day shopping spree, said Chu Jia, a PR person of Alibaba. Over 5,000 top overseas brands from 25 countries and regions, such as the US, Europe and Japan, attended the shopping bonanza, serving customers in more than 200 countries and regions.
The global online shopping carnival involves more than 40,000 merchants, introducing over 30,000 brands and six million kinds of goods.
At 9:52, the gross merchandise volume surpassed 50 billion yuan, approaching the total amount of 57.1 billion yuan last year.
The Hangzhou-based Alibaba is no doubt heading to make a new sales record.
"We expect the sales this time will break the record and will show the great purchasing power of Chinese consumers and the significant position of the holiday in China's retail sector," said Qian Yixin with the retail and consumer products department of KPMG.
Apart from its existing online shoppers in urban China, Alibaba has made tremendous effort to lure the country's rural shoppers and branch out it business in overseas markets, which are expected to boost this year's sales to a new level.
Zhang Yong, chief executive officer of Alibaba who wore a T-shirt with a slogan "Rock world", said on the eve of the shopping extravaganza that it is time for the world to be amazed by China's consumption power again.
Although it is the seventh year for Alibaba to throw such big online sales event, some of the early statistics suggested that consumers are getting increasingly crazy about it, rather than being tired of the eye-catching discounts and coupons.
The retail giant's unaudited figures showed that it generated 30 billion yuan in gross merchandize volume within 1 hour and 14 minutes this year, compared to nearly 11 hours in 2014.
Zhang Jianfeng, who is in charge of Alibaba's retail business unit, said the sales of this year is beyond expectation. "Some of the brands have sold more than 60 percent of their stockings and some have already sold out," he said in the early morning on Wednesday.