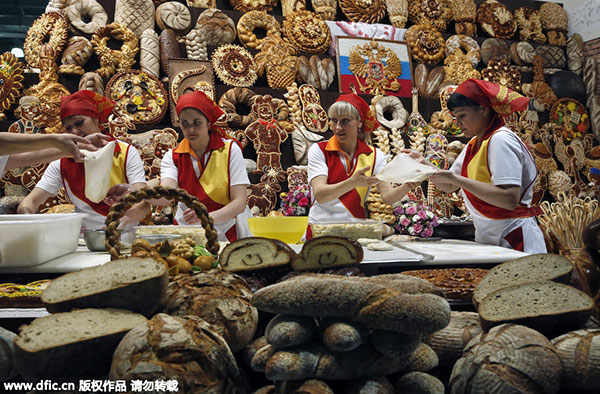 Workers of Karavai-SV bakery present their cakes and breads at the annual Golden Autumn agricultural exhibition in Moscow, Oct 8, 2015. [Photo/IC]
Russian food such as chocolate, candy, honey and bread have become a way of life in Heilongjiang province, one of the coldest areas in the country, where their imports are booming.
In the wake of the depreciation of the rouble, imported food from Russia is cheaper, which has prompted an increase in sales of Russian products.
Chinese people who live near Suifenhe, a port city on the border with Russia, are already fond of Russian food.
In January, the rouble dropped to 80.68 against the US dollar, a record low since the Russian currency's revaluation in 1998. This was mainly due to the plunging prices of oil, Russia's main export commodity.
A bag of Russian chocolate worth 60 roubles can now be bought in China for 5 yuan (76 US cents), which is 40 percent cheaper than several years ago.
Last year, Suifenhe imported 73,000 metric tons of Russian foodstuffs, a 110 percent jump year-on-year. The imported food was worth 250 million yuan ($38.22 million), an increase of 160 percent year-on-year, according to customs data.
Wang Jian, a trader selling Russian food since 2008, has a store in Suifenhe, where she mainly deals with wholesale business.
"I can make a profit of 700,000 yuan to 800,000 yuan a year. In January, which is usually the peak season for sales, I can make around 5,000 yuan daily. The best-selling food categories before Spring Festival are Russian seafood and candies," Wang said.
"I have many regular customers, as they like the high quality and taste of Russian candy. And there is a large profit margin from Russian products, thanks to the depreciation of the rouble," she said.
Besides Heilongjiang, which borders Russia, sales of Russian food have also increased in Jilin province, also in northeastern China.
Wang Changming, a resident of Changchun, the capital city of Jilin, mainly sells Russian sea cucumber on the popular messaging app WeChat. He can make a monthly profit of around 40,000 yuan to 50,000 yuan.
"Many of my customers buy sea cucumber for their elderly relatives and children. They said that they can see some real health benefits from eating Russian sea cucumber, so they repeatedly buy it," he said.
Chen Xiaochen is a customer who is fond of Russian food.
Two years ago, she traveled to Blagoveshchensk, a Russian city bordering Heilongjiang, and found that she enjoyed Russian food. She brought back a lot of Russian food-stuffs such as candies, bread and canned food, and her family liked them too.
"I searched online and found that there are barely any additives in Russian food. As a result, we now mainly buy Russian foodstuffs as their prices are similar to that of domestic products," she said.
Liu Mingtai in Changchun contributed to the story.