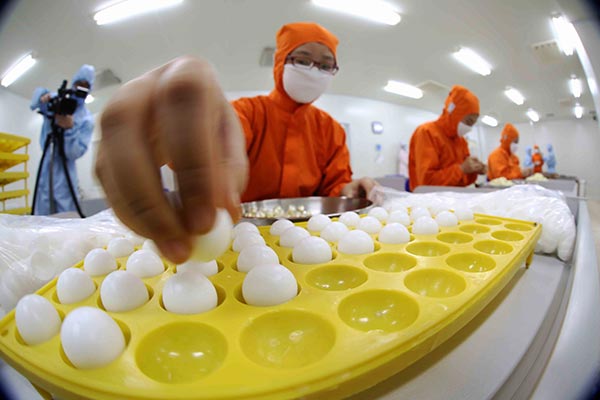 Employees arrange pills at a workshop owned by Beijing Tong Ren Tang Group Co Ltd, a traditional Chinese medicine maker.[Photo/Xinhua]
China's trade in medicines hit an all-time high of $102 billion last year.
The latest figures from the China Chamber of Commerce for Import and Export of Medicines and Health Products show the value was a 4.73 percent increase on 2014, and this year total export-import volumes are expected to rise again, by 3 to 5 percent.
Xu Ming, the chamber's deputy director, called the overall growth "healthy and stable", adding, however, that the Chinese export market had slowed.
Medicine imports were worth $46.2 billion, up 7.3 percent, while exports grew a slower 2.7 percent to $56.4 billion.
"That import growth indicates the Chinese domestic market has huge potential, as it is now the second-largest globally after the United States," said Xu.
The weaker export figures were largely indicative of an ongoing global economic slowdown, Xu said, and coupled with a weaker yuan, they put China on the back foot as an international medicine supplier.
Exports to the US performed well, even though some other main markets dropped. Volumes to the US grew 7.72 percent compared with the previous year and it is now China's second-largest medicine export market after Europe, where demand dropped 0.22 percent.
Xu remains positive that Chinese companies are making strong headway in their moves to expand trade abroad.
Some have been expanding through investment and merger, which is often a more complicated route than simply selling their products directly.
"It's astonishing how some Chinese companies have performed so well in overseas investments," Xu said.
One of the sector's most significant developments in 2015 was by a consortium led by Shanghai Fosun Pharmaceutical Group Co Ltd, which bought Ambrx Inc, a US biotechnology company focusing on molecular medicine.
The acquisition group also involved HOPU Jinghua (Beijing) Investment Consultancy Co Ltd, China Everbright Ltd's healthcare fund, and Wuxi PharmaTech, and the purchase included some valuable global biotechnology.
Fosun Pharma's Chairman Chen Qiyu said the acquisition would "produce a dramatic synergistic effect on Fosun's current development system".
Ambrx is now expected to build a global products development center in China, Chen said.
Other moves saw Chinese companies signing agreements with foreign companies to sell their products overseas.
Jiangsu Heng Rui Medicine Co Ltd, for instance, authorized US-based pharmaceutical company Incyte Corp to develop and sell its PD-1 antibody product outside China in September, with the Delaware firm paying $795 million for the right.