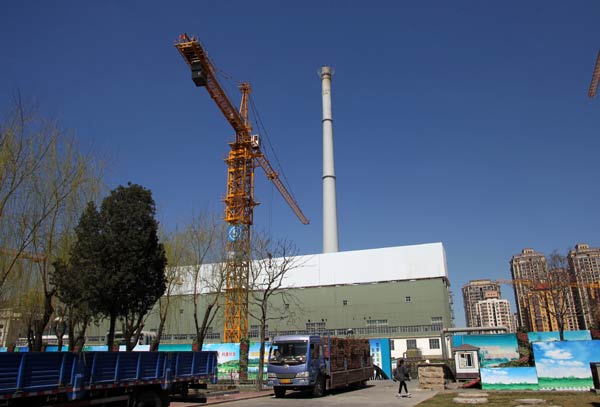 The 66-year-old thermal power plant of Guohua Electric Power Co in Beijing was shut down over the weekend. [ZOU HONG/CHINA DAILY]
Beijing has stepped up its efforts to switch to clean energy after it shut two of the large coal-fired power plants that supply power to the city during the weekend.
Prominent among them is the 66-year-old thermal power plant operated by the State-owned Guohua Electric Power Co, which will be replaced by a gas-fired plant, according to a statement by the Beijing Commission of Development and Reform, the city's economic planner.
The 400-megawatt plant has been running since 1949 in the east of the capital's financial district, along Chang'an Avenue, which passes Tian'anmen Square in the heart of the city.
The closure, which will cut coal consumption by at least 1.3 million tons a year, came a day after a 93-year-old thermal power plant run by Beijing Energy Investment Group closed its doors in western Beijing.
There were four major coal-fired power plants in Beijing to provide electricity as well as heating during cold winter. But the capital has charted plans to shut them down completely by 2016 as the city has been frequently clouded by dirty smog. The first plant that was shut was the 50-year-old Gaojing Thermal Power Plant operated by the State-owned China Datang Corp, which was closed in July. The fourth plant - the Huaneng Thermal Power Plant - is expected to be shuttered next year.
By replacing the coal-fired power plants with gas-fired ones, the capital hopes to cut emissions of 10,000 tons of sulfur dioxide, 19,000 tons of nitric oxide and 3,000 tons of dust every year.
He Jiankun, director of the institute of low carbon economy at Tsinghua University, said that the initiative to use more clean energy is a reflection of the government's resolution to combat air pollution.
"Gradually, all the coal-fired power plants will be phased out in Beijing and replaced by either gas-fired or other clean energy-powered plants," said He, who is also the vice-chairman of the national experts' panel on climate change.
"This is a good thing for the development of clean energy, industrial upgrading and innovation on clean technologies in the field of energy," he said.
In a clean air action plan (2013-2017), the government plans to reduce 13 million tons of coal consumption within five years. By 2014, consumption had been cut by 4.5 million tons. In 2015, the city plans to reduce coal consumption by another 4 million tons and limit the annual coal consumption to 15 million tons.
But He also cautioned that closures of large-scale coal-fired plants may lead to huge overcapacity in coal, steel and cement industries, which have already witnessed heavy losses in recent years.
Coal consumption fell last year for the first time in 14 years, sliding 2.9 percent year-on-year to 3.51 billion tons, according to the National Bureau of Statistics.